UniSA strengthens ties with Japan
October 17 2013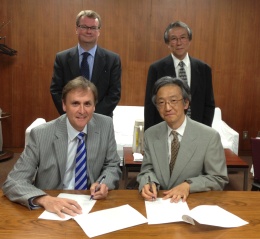 The University of South Australia has strengthened its ties with Japanese universities and institutions this week, focussing on research and education partnerships with some of Japan's most prestigious institutions.
UniSA Deputy Vice Chancellor: International and Advancement, Nigel Relph and Hawke Research Institute Director Professor Anthony Elliott visited Japan in the same week Foreign Minister Julie Bishop made her first official visit to the country.
"As Australia's second largest trading partner, Japan is important to Australian business, but also extremely important to the kinds of innovation and enterprise partnerships we forge in our region and universities are at the heart of that collaboration," Relph says.
"We have been meeting with good friends and colleagues at Tokyo University, Kwansai Gakuin University, Tsukuba University, Meiji University, the Kanto Sociological Society and the Australian Embassy to discuss a range of issues from new research collaborations right through to staff and student exchanges in the context of the Coalition Government's New Colombo Plan.
Relph also met with Japan Display Inc and Fujiwork Co to discuss the funded student internship scheme the companies generously provide to UniSA students.
"The internships supported by these companies have already provided amazing opportunities for students to work across departments and test their capacities in a totally new environment and the feedback we've had from students has been fantastic," Relph says.
"Our meetings have confirmed that we will be expanding the number of places next year opening up more opportunities for UniSA students to gain invaluable global experience."
And capping off a big week UniSA's Hawke Research Institute, Prof Anthony Elliott and DVC Relph signed a Memorandum of Understanding with Keio University, considered the "Harvard" of Japan, for further collaboration in the social sciences.
"This week we signed a similar MOU with Trinity College Dublin's Long Room Hub and both connections add to the growing international relevance and breath of the research we are undertaking at the Hawke Institute, which is now one of the largest social science research institutes in Australia," Prof Elliott says.
"The Keio MOU will facilitate research collaboration in the field of social theory and cultural studies.
"We have already made a significant impact with collaborations with Japanese colleagues including the establishment of the Japan Foundation Grant 2014 - States of Emergency: The Emotional Costs of Global Disasters and Regional Emergencies (非常事態に抗して:グローバルな災害と地域的な非常事態がもたらす情緒的負担).
"We will be welcoming 10 Japanese Professors to the Hawke Institute for a conference around these issues in March 2014.
"Japanese science and social science research is some of the strongest and most innovative in the world and we are delighted with this agreement to strengthen ties with Keio which we believe will help to build on the publications and research we are already undertaking together."
Media contact: Michèle Nardelli office: 08 8302 0966 mobile: 0418 823 673 email: Michele.nardelli@unisa.edu.au