UniSA leaps into top 300 world universities
October 02 2014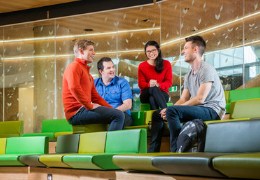 The University of South Australia has continued its rapid rise in the Times Higher Education (THE) World University Rankings, moving from 340 in 2013, to 290 this year.
Acting Vice Chancellor Professor Allan Evans says the strong results reflect the University's ongoing commitment to excellence and progress.
"The rankings reflect our goals for improvement across the board, particularly in research and teaching and in ensuring our students have an exceptional university experience and are well prepared for their careers," Prof Evans says.
"We are a young and enterprising institution but our ambitions are clearly focussed on engagement with the professions and industry worldwide.
"Increasingly our academic researchers are being recognised for their excellent research through citations by other researchers around the world.
"Our students and our graduates need to know that what they have learned and experienced here will support their career development and mobility in a global context.
"They will drive national and international innovation, economic development, social change and environmental sustainability into the future and it's our job to make sure they are best equipped to take on that challenge.
"The THE World University Rankings result for 2014 is something in which students and alumni can take pride."
The Rankings assess thousands of universities worldwide using 13 separate performance indicators to examine a university's strengths against all of its core missions – teaching, research, knowledge transfer and international outlook.
UniSA's result is an improvement of 50 places, the largest rise of any university in South Australia and the second largest rise of any Australian university.
UniSA continues to be one of the youngest in the rankings and in the THE release today, is positioned in the top 50 universities under 50 years old.
In the discipline specific rankings UniSA's engineering and technology remained in the top 100 and markedly improved its ranking from 99 in 2013 to 69 this year.
Media contact: Michèle Nardelli office: +61 8 8302 0966 mobile: 0418 823 673 email: Michele.nardelli@unisa.edu.au