UniSA joins other top business schools to boost female MBAs
August 11 2015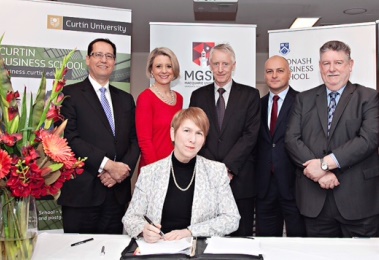 The University of South Australia has joined four of Australia's leading business schools in a landmark partnership agreement designed to tackle the gender imbalance in MBA study.
The network of top schools has committed to raising almost $20 million (in university and industry funds) to attract 320 new women into MBA programs over the next three years.
UniSA Business School, Curtin University, Monash Business School and Sydney Business School have combined with the Macquarie Graduate School of Management (MGSM) to deliver its Women in MBA program (WiMBA) – which partners with business to identify top female employees and support them financially and logistically, and by offering support and guidance to complete their MBA studies.
The WiMBA program will now be available to women in South Australia, Wollongong, Melbourne, Sydney and Western Australia for the first time.
MGSM's Director of Gender Inclusion, Professor Kristina Keneally says studies show that a MBA has a significant impact on career pathways.
"The research shows that MBA graduates report more promotion, increased responsibilities and an increase in their salary packages," Prof Kenneally says.
"However, in 2015, MBA degree enrolments are only 35 per cent female."
The new agreement is designed to offer vital support to women in the WiMBA scheme, by waiving part of or all tuition fees and encouraging flexible time management.
UniSA Pro Vice Chancellor, Business and Law, Professor Marie Wilson says the partnership is important in generating national opportunities for women to grow their influence and leadership.
"Because WiMBA is about a partnership with business to develop female leadership it does two things – it gets business and industry thinking in the right way about women's potential and then it gets them to back women to achieve that potential," Prof Wilson says.
"UniSA Business School is proud to be part of a network that will support enterprising women in their career progress."
Based on the findings of research conducted by MGSM, which found that cost and time are the primary barriers to women completing MBA study, the WiMBA program encourages diversity in leadership by partnering with business to identify top female employees and supporting them through an MBA.
Employers involved in the project offer support to WiMBA participants through scholarships; with on the ground logistical and practical support, including some flexibility in working arrangements to support additional study; and guidance from in-house mentors and or sponsors.
Scholarships MGSM is offering 50 scholarships to women to complete their MBA in a partnership with their employer. MGSM will match the contribution of the corporate partner dollar for dollar (up to 50 per cent).
The network aims to address the inequality at MBA enrolments and improve the numbers of women working in senior management, executive ranks and on the boards of our leading companies.
More information www.mgsm.edu.au/WiMBA
Media contact: Michèle Nardelli office: +61 8 8302 0966 mobile: 0418 823 673 email: michele.nardelli@unisa.edu.au