UniSA boosts support for Defence Reservists
February 06 2013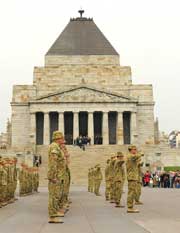 The University of South Australia will sign an important Memorandum of Understanding with the Australian Defence Force on February 8 that ensures staff and students of the University can carry out reservist duties in a work and study environment that acknowledges their contribution to the nation.
University Deputy Vice Chancellor Professor Joanne Wright says the MOU will formalise an already strong and longstanding collaboration between the University and the ADF.
"Our support for the men and women who serve in the Australian Defence Force goes back a long way and we are delighted to continue this very positive relationship," Prof Wright says.
"Members of the ADF Reserves are of such importance to the nation in times of war and peace. When we are in trouble following a fire, flood or hurricane it is often the defence reserves that are deployed to help the community.
"It is therefore very important that we support the education and training of our people in uniform by providing flexibility for them as staff and students at UniSA."
For UniSA Research Fellow Dr Nathan Daniell who is training as an officer cadet in the ADF the support from UniSA is vital.
"To complete my training with the ADF I need to attend five training blocks over the next two to three years and I need to know I won't lose income and that I will be able to attend the block training without it being a problem at work," he says.
"The University has a clear policy that supports my Reserve service and I know that the support I am receiving I can repay in the improved skills I am gaining in my training.
"Serving in the Reserves and undergoing the officer training is giving me new skills that perhaps I would not learn tucked away in a research lab – quick, strategic decision making, planning and attention to detail in planning, team work and dealing with different people and personalities and ensuring people work together to achieve the goals set.
"These are valuable characteristics and traits that are of great benefit to me as an individual but also to the work I do in my civilian life."
The MOU will be signed at the University's City West campus on Friday February 8 at 11.15 am by Deputy Head Cadet, Reserve and Employer Support Division Commodore Robert Morrison and University of South Australia Deputy Vice Chancellor Professor Joanne Wright.
Michèle Nardelli office: 08 8302 0966 mobile: 0418 823 673 email: michele.nardelli@unisa.edu.au