Three young UniSA researchers recognised as high achieving scientists and communicators
July 25 2017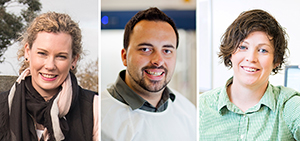 The ground-breaking work of three University of South Australia researchers has been recognised through the Young Tall Poppy Science Awards, announced this week.
The Young Tall Poppy Science Awards aim to recognise achievements by Australia's outstanding young scientific researchers and communicators. This year six UniSA researchers were nominated, with three taking home an award.
The three UniSA award recipients were:
Dr Kate Fennell whose research is improving scientific understanding of the health and mental health needs of rural communities;
Dr Zlatko Kopecki whose research into wound healing has identified a harmful skin protein that contributes to blistering and has developed a therapy to improve healing, reduce skin infections and decrease the risk of skin cancer; and
Dr Ashleigh Smith who's using activity monitors similar to Fitbits to monitor the link between physical activity, brain health, learning and memory to help reduce dementia.
Dr Kate Fennell – rural health and wellbeing
Former winner of the Channel Nine Young Achiever of the Year Award, Dr Kate Fennell (Research Fellow, Sansom Institute for Health Research and Clinical Psychologist) was nominated by Professor Ian Olver for her research on rural health and wellbeing.
Dr Fennell's research has resulted in improved scientific understanding of the health and mental health needs of rural communities, in the delivery of previously unavailable support services and also in wider awareness of the unique needs of this disadvantaged group.
"One of the interventions we are in the process of developing and will soon trial is, a new YouTube channel 'Rural Cancer Stories' which will feature stories and advice from rural cancer survivors and their carers so that country people who can't access a face-to-face cancer support group can still access information support from people who face similar challenges to them," Dr Fennell says.
"We are also about to start trialling an online self-help program that we have worked with 20 farmers from around Australia to develop, which is designed to improve farmers' wellbeing and their ability to cope with things beyond their control.
"I love my work, particularly when it allows me to go out in to rural communities and speak to the sort of people my research aims to help. I was very grateful that Professor Olver nominated me for a Tall Poppy Award, and thrilled to win one and have the community engagement I do, recognised in this way."
To express an interest in participating in the online self-help program, email farmers@unisa.edu.au.
Dr Zlatko Kopecki – wound healing
Dr Zlatko Kopecki was named 2016 Young Investigator of the Year and specialises in wound healing and skin blistering diseases with 28 peer-reviewed papers in top international journals under his belt.
"Skin is our largest organ and is often taken for granted," Dr Kopecki says. "Current management of wounds is limited to dressings that cover the skin to reduce infection and pain and my research has identified a harmful protein in the skin that contributes to increased skin blistering.
"With my colleagues at the Future Industries Institute at UniSA, I have developed a therapy to neutralise the activity of this protein leading to improved healing, reduced blistering, wound infection and decreased incidence of skin cancer.
"I feel honoured to be nominated for this prestigious award and humbled to receive recognition as one of the young Future Industries Institute Foundation Fellows leading the research on chronic wounds in Australia and promoting science in the community. A better understanding of scientific challenges and engagement with the community is vital in gaining momentum and support for future research discoveries that will lead to improved quality of life for many Australians."
Dr Ashleigh Smith – dementia
National Health and Medical Research Centre – Australia Research Council (NHMRC-ARC) Dementia Research Development Fellow, Dr Ashleigh Smith was nominated by Pro Vice Chancellor Professor Robert Vink with outcomes from her research already making a difference.
With dementia currently the second leading cause of death in Australia and no cure, Dr Smith is leading a team to test the role of physical activity, in protecting people against the disease.
"I use sensitive activity monitors (similar to Fitbits) to look at the link between physical activity, brain health, learning and memory. I also look at what exercise intensity provides the best protection for the brain, then using special equipment, I look at the early brain changes that occur in people at risk of dementia," Dr Smith says.
Dr Smith's results already show that even a short bike ride can change the brain pathways for a short time and physical activity does protect the brain against learning and memory decline in old age.
"Receiving this award is an absolute honour. I am particularly excited by the opportunities I will have as a Tall Poppy to share my research with the wider community and to inspire the next generation of neuroscientists," Dr Smith says.
Other UniSA nominees
Dr Tasha Schranz (Research Fellow, Health Sciences), Dr Kamil Zuber (Research Associate – Future Industries Institute) and Dr Aidan Cousins (Industry Consultant – Ferronova Future Industries Institute) were also nominated.
Media contact: Georgia Aish mobile: +61 413 314 726 email: georgia.aish@unisa.edu.au