This little pinot went to market: a guide to wine marketing
September 15 2015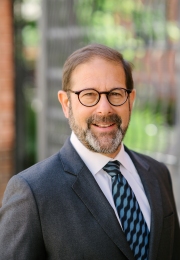 Wine marketing needs the same constant care that a vineyard requires – and there is no short cut to success, according to a new book by UniSA's Professor of Wine Marketing Larry Lockshin.
An internationally respected expert on wine marketing, Prof Lockshin from the Ehrenberg-Bass Institute for Marketing Science has teamed up with WBM – Australia's Wine Business Magazine, to publish This Little Pinot Went to Market: A Guide to Wine Marketing.
The book, published by Adelaide media company Newstyle Media, is an edited collection of magazine columns written by Prof Lockshin over the past 17 years.
"Marketing is no different from developing a vineyard," Prof Lockshin says.
"You have to choose the right position, invest in its development, cultivate, prune, and sometimes thin to have a quality harvest.
"The techniques of marketing do not need the equations of chemistry to be understood, but they do need the constant care and feeding that all vineyards require.
"Reputation is merely the long-term success of consistent and good marketing, coupled with consistent and good grape growing and winemaking."
This Little Pinot Went to Market: A Guide to Wine Marketing covers a range of topics including branding, consumer behaviour, communication, distribution, tourism and merchandising.
"I considered writing a wine marketing manual or a textbook, but decided these were boring to read – and write," Prof Lockshin says.
"Instead, I produced this book of edited excerpts from the more than 250 marketing columns I wrote for a number of wine trade journals including WBM. I prefer to call this the nugget approach, because each column focuses in-depth on a single important marketing issue.
"The individual columns offer something useful and entertaining. Each column was written at a specific time and situation of the Australian and global wine sector, but as I reread them, I found that they were both historical and contemporary. Columns from the early 2000s are still as useful as columns from the past couple of years."
WBM editor Anthony Madigan says the new book is timely.
"The Australian wine industry is facing numerous challenges including stiff competition from wine countries across the globe, and marketing has never been more critical for both individual operators and the industry as a whole," Madigan says.
"Anyone serious about the wine business should have a copy of this book. They will be able to refer to it for years to come because a lot of the basic marketing principles don't change. I'm particularly pleased to see sales covered in the book; it's one area the Australian wine industry has overlooked for too long."
Prof Lockshin has a PhD from Ohio State University in Marketing and an MSc from Cornell University in Viticulture. He has published more than 100 academic articles and 250 trade articles on wine marketing.
He started his career as a viticulturist working in the Midwest of the US helping growers adapt from growing grapes for juice to growing grapes for wine. He then was the director of the Ohio Grape Industries Program managing both research and marketing for the Ohio grape and wine sector.
He moved to Adelaide in 1995 to become the Program Director of Wine Marketing at the University of Adelaide (Roseworthy). In 1999, Lockshin became Associate Professor (Wine Marketing) at the University of SA, where he continues to research, consult, and train new researchers in wine marketing as Professor and Head of the School of Marketing, and an Associate Director at the Ehrenberg-Bass Institute.
The 228-page A4 book is now available in both digital and printed formats ($49.95 for digital and $99.95 plus postage and handling for printed edition). Download a free excerpt from www.newstylemedia.com.au
Contact for interview: Professor Larry Lockshin office (08) 8302 0261 mobile 0417 891 732 email larry.lockshin@unisa.edu.au
Media contact: Kelly Stone office (08) 8302 0963 mobile 0417 861 832 email Kelly.stone@unisa.edu.au