Tanya Monro takes a seat on the CSIRO Board
February 29 2016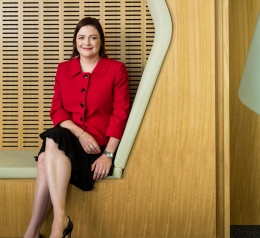 The Minister for Industry, Innovation and Science, Christopher Pyne, has announced the appointment of Professor Tanya Monro to the board of Australia's leading science research organisation, the CSIRO.
UniSA Deputy Vice Chancellor: Research and Innovation, Prof Monro, is a top Australian physicist, a leader in higher education and an advocate for the power of valuable links between research and industry in support of innovation. She takes up the five-year appointment this month.
Announcing the appointment, Minister Pyne said it was vital that the CSIRO Board had members with the right combination of skills, knowledge and expertise.
"Professor Monro is an experienced board member and chairperson, whose membership on the Commonwealth Science Council and the South Australian Economic Development Board will be of great benefit to her role on the CSIRO Board," he said.
"She will bring a valuable mix of skills to the board with her broad knowledge of innovation."
Prof Monro says she is delighted and honored to serve on the board.
"From the time I was a school girl I have known CSIRO as Australia's engine-room of science and innovation," Prof Monro says.
"I'm looking forward to making my contribution at a time when science and innovation are very much back on the national agenda and are more important than ever for Australia's economic growth and the development of future industries."
Chair of the Deputy Vice Chancellor Research Group of the Australian Technology Network of Universities and the National Youth Science Forum Council, Prof Monro was recently named in the Australian Chief Scientist's Knowledge Nation 100 "star" innovators.
Minister Pyne emphasised that innovation was central to the Government's economic agenda to support Australia's future prosperity.
"Collaborative initiatives with the university sector and industry helps CSIRO make the most effective contribution to the Australian innovation system," Pyne said.
"Professor Monro will bring a strong understanding of the value of these collaborations to the board.
"I congratulate her on the appointment and I look forward to working with the board as CSIRO maintains and expands its place as Australia's pre-eminent research organisation."
More information, visit http://www.csiro.au/
Media contact: Michèle Nardelli office +61 883020966 mob 0418823673 email michele.nardelli@unisa.edu.au