Seven years of five-star success for UniSA MBA
October 07 2014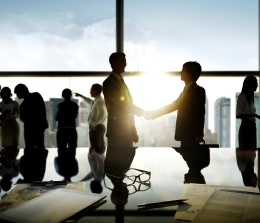 The University of South Australia's MBA program has again been awarded the Graduate Management Association of Australia (GMAA) Five Star rating, making it one of Australia's most consistent high quality MBA programs.
Pro Vice Chancellor Business and Law and Head of the UniSA Business School, Professor Marie Wilson says the fact that the MBA has performed so well over seven years is a testament to our commitment to quality in executive business education.
"The University has a proud tradition in business education evidenced by the long-standing quality of its MBA program, the fact that it has consistently been awarded EQUIS accreditation over the past 10 years and that we continue to innovate," Prof Wilson says.
"This year we have launched our Centre for Business Growth clearly targeting executive education needs for business, our research has been boosted with the launch of the Institute for Choice in Sydney and we are operating a teaching and learning environment that is closely connected to the world of business.
"Our MBA is being delivered in an environment that is international in outlook and we have worked hard to benchmark the degree, not only with the best in Australia but also internationally, to ensure what we offer is relevant."
University of South Australia Acting Vice Chancellor Prof Allan Evans says the ongoing success of the MBA is well deserved.
"I know that our MBA program ticks all the boxes," Prof Evans says.
"We make it flexible because we know top MBA students are also usually high flying professionals.
"We ensure the degree is relevant in a national and international context because we know our students work in a global context.
"UniSA MBA students are supported throughout their studies by thought-leaders with extensive experience in the business world, so that when they graduate, they have been challenged by real world management issues and learned to resolve them."
More information about the UniSA MBA is available here.
Media contact: Michèle Nardelli office: +61 8 8302 0966 mobile: 0418 823 673 email: michele.nardelli@unisa.edu.au