Port Adelaide and UniSA launch new courses in 'powerful partnership'
August 14 2014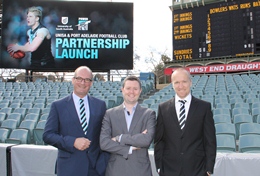 The Port Adelaide Football Club and the University of South Australia have officially launched their high performance partnership at Adelaide Oval announcing the development of new courses for next year and beyond.
UniSA, in conjunction with Port Adelaide, will introduce two new courses for 2015 – one on pre-season training cycles for high performance athletes and one on in-season competition and recovery strategies – with a view of working towards a Masters in High Performance program in 2016.
The announcement came ahead of a lively panel discussion on sports high performance and international, community and Indigenous engagement, held yesterday afternoon.
The panel was headlined by Port Adelaide chairman David Koch and fitness high performance manager Dr Darren Burgess, and UniSA Vice Chancellor Professor David Lloyd, sport and exercise psychologist Associate Professor Gaynor Parfitt and Population Health Professor Kerin O'Dea.
Mr Koch said the launch of the new curriculum was another exciting step in Port Adelaide's partnership with UniSA.
"We are delighted to be working closely with UniSA in the development of these courses for 2015 that will provide mutually beneficial opportunities for UniSA students and our club," Mr Koch said.
"We are in the process of finalising two new introductory courses for next year which are intended to lead into a Masters in High Performance program in 2016.
"And we think these courses will provide a unique experience for students. They will get to work directly with our playing group so the practical elements of this program will be quite outstanding and different to any other course of its kind."
Mr Koch reiterated that Port Adelaide had a strong focus on community engagement and was also looking forward to working with UniSA in this area.
"Port Adelaide has started working with UniSA in the area of Aboriginal education, in a hope we can encourage more young Aboriginal men and women to pursue a University education," Mr Koch said.
"But it goes beyond. This is about a long-term commitment to remote Aboriginal communities such as the Maralinga and APY Lands.
"We want to be able to communicate education messages effectively to these remote communities and track the success of our programs.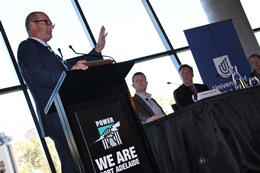 "We feel that through joining our networks with those at UniSA, we can connect with these remote communities in an even better way than we do now.
"Through our partnership we will seek to increase the school retention rate of Aboriginal students in remote communities and also gain an understanding of the impact improved health and nutrition can have on education outcomes.
"From an international community perspective we see both Port Adelaide and UniSA actively seeking to increase engagement, with combined international student activities high on our agenda.
"We'll also be looking to develop joint strategies with UniSA to explore compatible connections in China and Asia, with a view of holding an AFL game in China for premiership points."
Mr Koch also said that research capabilities were at the heart of this new partnership with UniSA.
"From a research point of view we will be looking to utilise UniSA's expertise in this area to measure all our high performance and community engagement strategies," Mr Koch said.
"Our aim is to track the ongoing effectiveness of our elite community programs with the view to sharing these learning's with other stakeholders.
"For example, we will look to share information from our elite training practices that could be applied to exercise programs for the elderly. Or it might be sharing data relating to GPS technology that other sporting organisations may find beneficial.
"Research capabilities will be a significant component of our partnership with UniSA."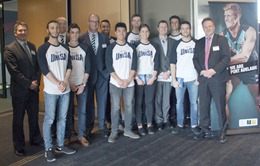 Prof Lloyd said the Masters in High Performance would be an exclusive program for about 15 students sourced worldwide to study a program designed, developed and delivered by UniSA, Dr Darren Burgess and the Port Adelaide Football Club.
"Further to this, will be the launch of a pilot program in 2015 comprising two modules of the Master degree, with status credit to be carried forward into the 2016 program," Prof Lloyd said.
"This partnership is delivering a rare opportunity for students to be at the heart of sporting competition and to really understand what it takes physically and psychologically to achieve excellence in sport.
"That means if you are studying this program you'll have that professional edge – real experience with a champion sporting team and all the insights that brings for professional practice."
Prof Lloyd said other developments in the partnership include:
Offering a short-term scholarship to a student from a University in China or Hong Kong to work on a project with both partners on topics such as building profile for Aussie Rules Football and for Port Adelaide in China.
Development of a scholarship program or research project based on the delivery of Port Adelaide's WillPower program – a program designed to motivate young Aboriginal people to attend school – into communities in the Maralinga and APY Lands.
UniSA media contact: Kelly Stone office 8302 0963 mobile 0417 861 832 email Kelly.stone@unisa.edu.au
PAFC media contact: Daniel Norton office 8447 9969 mobile 0419 848 669 email dnorton@pafc.com.au