Pioneering delivery of simulated ultrasound technology at UniSA
June 26 2013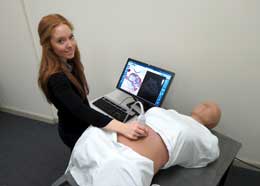 Budding future sonographers at the University of South Australia are among the first in the country to develop their skills using state-of-the-art, ultrasound simulator technology.
UniSA's Health Sciences division has been awarded a grant from Health Workforce Australia to buy four new ultrasound simulators, including the first Obstetrics Vimedix simulator in Australia.
The obstetrics simulator enables users to undertake fetal ultrasound imaging, gestational age assessment and evaluation of the maternal adnexa using a trainer model featuring realistic fetal and maternal anatomy.
The 3-D augmented reality images from the simulated scans will help students in their understanding of anatomy and their interpretation of anatomical structural relationships with ultrasound imaging.
Professor Esther May, Acting Pro Vice Chancellor: Health Sciences, said the use of simulation in the sonography program enhances the learning experience by providing a hands-on opportunity for students to become proficient in key skills before meeting real patients.
"It enables students to practice ultrasound scans in a safe, simulated environment," Professor May said.
"Students can improve their technical competence to produce sonographical images and develop confidence in interpreting those images."
UniSA postgraduate student, Ellie Bidstrup, is a trainee sonographer at Sound Radiology's Parkside clinic (a radiology practice), and was one of the first students to practice her obstetric skills on the simulator.
"The use of the simulator has been a great way to introduce me to obstetric ultrasound," Bidstrup said.
"The realistic ultrasound image coupled with the technology of split screen 3D anatomy has allowed me to develop my ultrasound skills whilst keeping my bearings.
"Being able to learn without time limitations or the added pressure of having to provide excellent patient care at the same time has been invaluable."
Nicole Sykes, General Manager at Sound Radiology agreed.
"For our student at Sound Radiology to have access to these simulators has been beneficial allowing opportunities to practice perfecting scanning techniques without the added pressures of providing high quality patient care to our patients," she said.
"This has been a very exciting opportunity."
Associate Professor Kerry Thoirs, who is the Associate Head of the School of Health Sciences, is inviting Sonographers who are interested and involved in sonographer training to attend a demonstration of the three new Vimedix ultrasound simulators at the University.
The event will take place on July 2 between 6-8pm at the Bonython Jubilee Building, City East Campus.
This project was possible due to funding made available by Health Workforce Australia.
Contact for interview:
Kate Logan (Project officer: Health and Clinical education) office 8302 1095
email kate.logan@unisa.edu.au
Media contact: Will Venn office 8302 0965 email will.venn@unisa.edu.au