Perpetual Sir Terry Pratchett Scholarship announced for UniSA
September 28 2015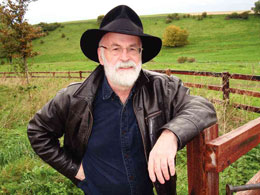 Marking his passion for lifelong learning, curiosity and exploration, the estate of the late Sir Terry Pratchett has announced the endowment of a unique scholarship at the University of South Australia to honour the memory of the best-selling author.
The Sir Terry Pratchett Memorial Scholarship will be awarded by the University of South Australia in perpetuity, every two years and will support a student to undertake a Masters by research at UniSA's Hawke Research Institute, covering stipend, travel and accommodation expenses as well as research costs.
The $100,000 scholarship will additionally provide an extraordinary opportunity for students to conduct their research both at UniSA and at Trinity College Dublin, in Ireland for up to a full year in the course of their two-year's study.
Sir Terry's Business Manager and close friend, Robert Wilkins, will officially launch the scholarship at UniSA on September 28.
UniSA Vice Chancellor Professor David Lloyd says that the University is humbled by the generosity of the scholarship.
"This extraordinary gift is the largest student scholarship of its kind in the history of the University," Prof Lloyd says.
"Terry was someone who was never shy of contributing to the things he believed in and as recipients of this wonderful bequest we are reminded of his commitment to inquiry and to learning.
"The fact that this is a perpetual scholarship means that, like Terry's books, this gift will endure for generations to come.
"The scholarship will support worthy students to complete cultural research relevant to, or inspired by Terry's work and linked to the Hawke Research Institute's theme of identity transformations.
"That opens a vast field for creative and sharp minds – anything from the study of satire and its impact on societal identities right through to the impact of information and communications technology (ICT) in society.
"Whatever the research proposal in this field, we want to see topics that consider social impacts and investigate tangible benefits to society – it's an exciting challenge and one that we think Terry would have loved."
The collaborative scholarship builds on a growing relationship between two very different universities in two hemispheres, who share links both through research and their strong associations with Sir Terry Pratchett and is underpinned by an MOU between Trinity College Dublin's Trinity Long Room Hub and UniSA's Hawke Research Institute.
Dean of Arts, Humanities and Social Sciences at Trinity College Dublin, Prof Darryl Jones, says the School of English at Trinity was honoured to have Sir Terry Pratchett as an Adjunct Professor.
"His wit, his warmth, his intelligence and above all else, his humanity made him an unforgettable friend and colleague," Prof Jones says.
"We miss him dearly, and we're delighted to be part of this joint endeavour with the University of South Australia.
"The Sir Terry Pratchett Memorial Scholarshipis a fitting tribute to a wonderful writer and a remarkable man."
Heralding the launch of the scholarship, Rob Wilkins will present a special masterclass for UniSA students on September 28 titled Terry Pratchett – the art and business of creative writing.
While in Australia he will also be available to talk about Sir Terry's final Discworld™ novel, The Shepherd's Crown, released internationally just last month.
Sir Terry was welcomed into the UniSA community and awarded an Honorary Doctorate in 2014 in acknowledgment of his lifetime contribution to literature and society.
He was the UK's best-selling author of the 1990s with sales of over 85 million books worldwide in 37 languages.
A master of the fantasy universe, his Discworld series commencing with The Colour of Magic in 1983, and carrying through in 42 books, has sold more than 80 million copies.
Media contact: Michèle Nardelli office +61 883020966 mob 0418823673 email michele.nardelli@unisa.edu.au