Panel to explore better managing our diverse workforce
April 11 2014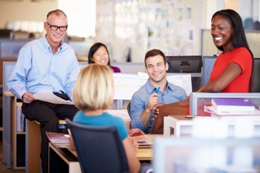 Diversity in the Australian workforce will be examined at a special panel discussion featuring five national and state Human Rights Commissioners at the University of South Australia next Wednesday (April 16).
The public event, jointly presented by the University of South Australia's Centre for Human Resource Management and South Australian Equal Opportunity Commissioner Anne Gale, will delve into how organisations can manage and benefit from their diverse Australian workforce.
Director of the Centre for Human Resource Management, Research Professor Carol Kulik, says in theory, diversity should offer Australian organisations a competitive advantage.
"Organisations that hire a diverse workforce are drawing the best talent from all of the labour market segments, and the diverse perspectives should generate more creativity and innovation," Prof Kulik says.
"Diverse workforces can deliver more effective customer service, higher workforce morale and improved financial performance. However, these advantages are only enjoyed by organisations that effectively manage diversity."
Prof Kulik says in practice, though, organisations often do a poor job of managing diversity.
"Many organisations' human resource management activities can be inflexible and fail to accommodate the needs of a diverse workforce," she says.
"In addition, managers may focus narrowly on gender and be less conscious of other diversity dimensions such as age, sexual orientation, disability or culture.
"Effectively managing a diverse workforce requires moving beyond non-discrimination to practices that signal to employees that diversity is embraced and valued in the organisation."
South Australia's Equal Opportunity Commissioner Anne Gale says a proactive approach to diversity through workforce planning and organisation culture can reap benefits, both economic and social.
"The panel of Commissioners will bring insights into the issues and experiences that some groups, such as people living with a disability, Indigenous Australians and people from different cultural backgrounds experience in employment," Gale says.
Prof Kulik says the event is designed to raise awareness of diversity dimensions beyond gender – and to identify strategies for organisations to better manage diversity along those dimensions.
The panel will comprise:
Anne Gale, Equal Opportunity Commissioner, South Australia
Robin Banks, Anti-Discrimination Commissioner, Tasmania
Graeme Innes, National Disability Discrimination Commissioner
Kate Jenkins, Equal Opportunity and Human Rights Commissioner, Victoria
Megan Mitchell, National Children's Commissioner
Prof Kulik says the participating Commissioners have a strong interest in diversity and employment as their offices are the first 'ports of call' for employees with diversity-related complaints.
"As a result, the Commissioners are well-positioned to describe current diversity trends such as the areas generating the most employee complaints and to suggest diversity solutions including ways in which employers can better manage a diverse workforce," she says.
"The Centre for Human Resource Management greatly appreciates their willingness to participate in this event so we can learn more about diversity issues across the country and those issues that go beyond gender."
Prof Kulik says the event will be of interest to anyone with an interest in people management. This includes human resource and diversity professionals, but also includes the front-line managers and supervisors who hire, evaluate, and develop employees.
"Diversity is relevant to all organisations, so the audience is not limited to particular sectors or industries," she says.
"However, the topic may be of particular interest to people who work in specialised sectors such as caring for people with disabilities or providing employment advice to older jobseekers."
The event will be held at UniSA's City West campus, in the Hawke Building's Allan Scott Auditorium on Wednesday April 16 at 4.30pm for a 5pm start.
More information is available at www.unisa.edu.au/beyond_gender
Diversity facts:
The Australian workforce is highly multicultural with overseas migration contributing almost two-thirds of population growth.
Nearly four million Australians (20 per cent of the population) have a disability that restricts their everyday activities.
Australia now has more workers aged over 55 than it has workers under 25.
The number of same-sex couples has risen with every Australian census.
Media contact: Kelly Stone office 8302 0963 mobile 0417 861 832 email Kelly.stone@unisa.edu.au