NHMRC funding for vital health research
November 09 2015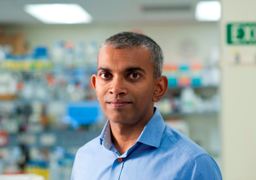 University of South Australia researchers have received a boost in their work to tackle major health issues including cancer, diabetes and polycystic kidney disease after securing funding in National Health and Medical Research Council (NHMRC) Project Grants for 2016.
UniSA Vice Chancellor Professor David Lloyd congratulated five UniSA researchers who were awarded funding for six projects valued at a total of $3.9 million.
"These project grants are varied in the breadth of health research that they cover, but what they all share is the desire to improve human health through innovative, outcomes-focussed research," he says.
Centre for Cancer Biology researchers won four grants, with the CCB's Dr Michael Samuel winning funding for two projects.
Dr Samuel's first project will investigate how a protein known as ROCK promotes cancer tumours.
"The spread of cancers from primary to secondary sites is responsible most cancer-related deaths," Dr Samuel says.
"As cancers grow and spread, their internal structure is modified. Immune cells in the cancer begin to behave differently to the same types of cells in normal tissues, promoting its spread.
"We have discovered that many of these changes are regulated by a protein called ROCK. In this project grant, we will study how ROCK controls such a wide range of tumour promoting processes."
Dr Samuel's second project will look at wound healing. He says wounds that remain unhealed can require surgery and limb amputations, leading to disability and premature death and costing the health system $3 billion a year.
"We have found that wound healing can be accelerated more than two-fold by the inhibition of a protein, called 14-3-3zeta, and seek to find out how this occurs so that it may be used for therapy," he says.
Other CCB researchers receiving funding were Associate Professor Claudine Bonder and CCB co-director Professor Sharad Kumar.
Assoc Prof Bonder is investigating a novel lifeline to treat Type 1 diabetes, for which the only treatment involves the transplantation of pancreatic islets.
"Unfortunately many of the transplanted islet cells die quickly due to an inadequate supply of blood," she says.
"In this project, we will investigate a novel cell surface protein for its role in islet and blood vessel survival and function. We'll use nanotechnology to provide the protein to the islet cells during transplantation for increased survival and function. Ultimately, we hope this work may cure patients with diabetes."
Professor Kumar's project focuses on Polycystic Kidney Disease (PKD), a life-threatening disorder affecting more than 12 million people worldwide.
"This project is based on our discovery of a new gene that controls PKD," Prof Kumar says.
"Using kidney specific gene knockout, biomedical and cellular approaches, we will now address how this gene controls PKD. The results from this study will lead to better understanding of the underlying mechanisms that cause PKD, thus providing possible new targets for therapeutic interventions."
Dr Siobhan Banks from the Centre for Sleep Research has won funding to investigate altering meal times to reverse the metabolic consequences of shift work.
Dr Banks says shift work disrupts the internal body clock, which increases the risk for obesity and Type 2 diabetes. Her research demonstrates meal timing plays an important role in this metabolic disturbance.
"Data from animal studies suggests that the adverse consequences of shift work can be reduced by eating only during the day," she says.
"This study will investigate if this also occurs in humans, potentially leading to a straightforward solution to reduce the burden of chronic disease in shift workers."
Professor Leonie Segal will investigate the health and social consequences of child abuse and neglect.
Prof Segal says child maltreatment can result in a range of poor health, social and economic outcomes.
"Current surveys tell us little about the size of these impacts for young people, especially for those with the worst outcomes – death, homelessness, hospitalisation, incarceration," she says.
"This study will use data from hospitals, child protection and other services to explore the impacts of maltreatment on young people in SA and related costs to government, to inform policy to improve outcomes for this vulnerable group."
Media contact: Kelly Stone office 8302 0963 mobile 0417 861 832 email Kelly.stone@unisa.edu.au