Mood Food: Mediterranean diet linked to better mental health
March 10 2015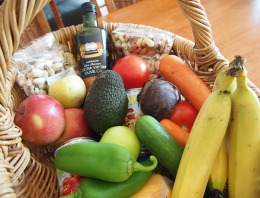 UniSA researchers have discovered that a traditional Mediterranean style diet may do more than improve physical health; it may also improve the life quality of people with depression.
Preliminary results of research conducted by the Healthy Eating for Life with a Mediterranean Diet (HELFIMED) team have found that those who adhered more highly to a Mediterranean diet were happier and reported an improved quality of life compared to those who had poorer dietary scores.
A total of 82 adults with depression, aged between 18-65, took part in the study, with mental health and quality of life assessed using the Depression Anxiety Stress Scales (DASS), Positive and Negative Affect Scale (PANAS), with Mediterranean diet adherence measured through a 14-item questionnaire.
The results indicate that dietary intervention may improve mental health and lead researcher, Natalie Parletta, says that HELFIMED is now seeking more volunteers to further examine the ability of diet combined with fish oil supplementation to improve mental health.
"Depression is a leading cause of disability-adjusted life years, and is predicted to be a top contributor to global burdens of disease by 2030," Dr Parletta says.
"Emerging evidence now suggests that a Mediterranean style diet may be beneficial for improving depression and mental health. Omega 3 fatty acids are highly concentrated in the brain and previous research has suggested they may play a role in maintaining or improving mental health and stability."
Preliminary outcomes of the research follow a recent news article on the Huffingtonpost website, which states that for the first time a report by a task force advising on new dietary guidelines, commissioned by the U.S. Departments of Health and Human Services (HHS) and Agriculture (USDA), has included a point considering the possible role of diet in mental health outcomes.
"There is a high overlap between heart disease and depression – and these are leading causes of morbidity and mortality worldwide. If we can show that diet and nutrition can improve mental health this has wide reaching implications for empowering people to improve their quality of life and reducing the massive burden of disease," Dr Parletta says.
A Mediterranean diet consists of primarily plant-based foods such as vegetables, legumes, fruit, nuts, seeds and olives, extra virgin olive oil as the main dietary fat and fish, with moderate red wine intake and low consumption of processed food, confectionary and red meat.
The researchers are now looking for volunteers aged 18-65 in Adelaide who have depression, to investigate this further.
For more information please call (08) 8302 1365 or email: sansom.researchvolunteers@unisa.edu.au, or visit the website: http://helfimed.org/moodstudy
Contact for interview:
Dr Natalie Parletta: office mobile 0438 880881
Media contact: Will Venn office (08) 8302 0096 email will.venn@unisa.edu.au