Healing the mental scars of war
February 03 2015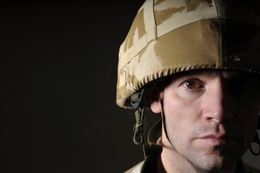 American Sniper is the latest Hollywood war drama which picks up on themes of mental stress associated with combat, but what if mental health conditions such as Post Traumatic Stress Disorder (PTSD) could be treated at the touch of a button?
This week, a two-day symposium jointly hosted by the University of South Australia (UniSA) and the Defence Science and Technology Organisation (DSTO) will examine cutting edge research in the fields of Cognitive Neuroengineering and Computational Neuroscience to consider the potential impact and application of such research to the Defence Forces.
UniSA Professor of Defence Systems, Nanda Nandagopal, says the Cognitive Neuroengineering Laboratory (CNeL) at UniSA is currently developing a new method of neuro feedback which can monitor and selectively reinforce certain frequencies (EEG components) in the brain to potentially enhance cognitive processing.
"The brain has somewhere between 86 billion and 100 billion nerve cells and 100 trillion connections, meaning each person's brain is more complex than all the communication systems on the planet combined," Prof Nandagopal says.
"To deal with this complexity, we need to use the latest, advanced computational techniques – the type of techniques we'll be discussing during the Symposium.
"By applying such techniques to real-time EEG data we can assess the changes that take place in brain function when it is put under cognitive load, or stress. Once we understand those changes, we can develop new ways to tackle that stress through targeted, non-invasive audio-visual feedback of on-going EEG."
"UniSA is pioneering research in this area and the CNeL is currently developing a method known as adaptive neurofeedback which is capable of modulating an individual's underlying neural activity according to activity bandwidth (e.g. theta, alpha) which we believe will support enhanced cognitive processing such as expanded short term memory.
"This may one day provide an effective treatment for disorders such as PTSD."
Prof Nandagopal points out that the practical implications of such research for the Defence Force are considerable as Deployed Defence Force personnel can experience high levels of both physical and mental stress during operations, such as witnessing the deaths of civilians or friends in violent circumstances.
"The mental health conditions that can arise from combat include PTSD and cognitive impairments. Our primary long-term goal is to develop new ways to help prevent and treat such psychological wounds," Prof Nandagopal says.
Considering that one in every four people are afflicted with a mental health condition at some point in their life, CNeL's research may have even wider applications beyond the battlefield.
"Cognitive augmentation is the enhancement of core capabilities of the mind through improvement of internal or external neural information processing systems. If these capabilities are somehow impaired, cognitive augmentation aims to restore those levels to normal functional levels," Prof Nandagopal says.
"As an emerging interdisciplinary bio-technology research area, it is of growing importance to mental health."
The Symposium, which will take place on February 5-6 at the Materials and Minerals Science Learning and Research Hub (MM Building), UniSA, will also provide the opportunity to consider the future of cognitive neuroengineering in light of practical, ethical and social constraints. Keynote speakers include Rear Admiral Robyn Walker, Commander Joint Health/Surgeon General Australian Defence Force.
Contact for interview:
Professor Nanda Nandagopal office 8302 3963 email Nanda.nandagopal@unisa.edu.au
Media Contact
Will Venn office (08) 8302 0096 mobile 0401 366 054 email will.venn@unisa.edu.au