Innovative health partnership in far west NSW puts feet first
March 26 2015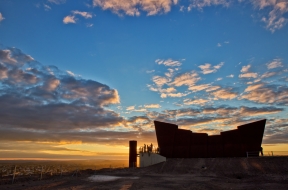 A full range of podiatry services will be available to communities in Broken Hill and remote areas of the Far West of NSW thanks to a new partnership between Far West Local Health District (FWLHD), Medicare Local and the University of South Australia's School of Health Sciences.
Based on the highly successful UniSA Podiatry Clinic already operating in Adelaide for the past 15 years, the podiatry service forms part of the University's undergraduate teaching program and will run with registered practicing Podiatrists supervising undergraduate Podiatry students to carry out podiatric assessment and treatment.
Head of UniSA's School of Health Sciences, Professor Roger Eston says he is delighted to be able to extend the service and provide a new landscape for training podiatrists to apply their experience, knowledge and skills.
"Our successful community-based model has a strong track record of not only providing accessible services to the community in metropolitan Adelaide, but also of bringing services to rural and remote communities who would not otherwise have access to podiatry," Prof Eston says.
"The new service will be sustainably structured to ensure continued availability of podiatric care and it will offer a unique experience for students visiting the rural and remote communities in the far west region."
He says the three-party partnership will also collaborate with the Royal Flying Doctor Service (RFDS), Maari Ma Health and local General Practices to meet a community service needs.
"This is a fantastic opportunity to do a couple of really important things," Prof Eston says. "We are making a long term commitment to the far west region of NSW and many of its remote communities and at the same time we are giving future podiatrists the chance to practice and extend their skills. They will see a much broader and more interesting caseload and that is likely to encourage some of them to return to the regions to build their careers."
A full range of regular podiatry services will remain free for eligible patients. Specialist orthotic services will be provided on a cost-recovery basis which will be discussed with the patient at the time of consultation.
CEO of the Far West NSW Medicare Local, Stuart Gordon, welcomed the collaboration.
"Together we will be ensuring better access to high quality Podiatry services in the Broken Hill township and surrounding communities," Gordon says.
"We will work with UniSA, FWLHD, GPs and other service providers to ensure we deliver the best services based on the needs of individual communities.
"These developments are the product of some wonderful collaboration between our organisations and provide the opportunity for a very significant increase in service for the Broken Hill and surrounding communities.
"The cooperation and support of the Local Health District along with the enthusiasm and experience of UniSA have created an innovative opportunity for stakeholders in the Far West."
Media contact: Michele Nardelli mobile 0418823673