In the deep end for space walk training
January 16 2013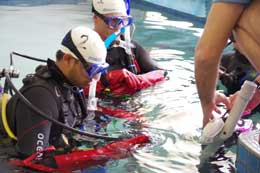 Carrying out space station repairs can be tricky in zero gravity conditions, but for students of the Southern Hemisphere Summer Space Program (SHSSP) at the University of South Australia, working in a simulated space environment means plunging the depths rather than reaching to the stars.
A series of workshops are being facilitated this week at Adelaide Scuba, Glenelg, enabling students of the UniSA and International Space University hosted program to simulate an extra vehicular activity (EVA), or "spacewalk", in neutral buoyancy conditions, underwater at the dive centre.
A total of eight students volunteered to be "trainee astronauts" and participate in a PADI 'Discover Scuba' course to prepare for the workshops.
Under guidance from professional support divers, the trainees are simulating EVA NB training activities in multi-disciplinary teams, working-through issues such as transporting and stowing payloads, tethering protocols, and developing skills as working as part of a team in an altered-gravity environment. Live video links stream underwater and poolside information back to a topside Mission Control team.
The first full-link-up between Mission Control: Mawson Lakes and Adelaide Scuba: Glenelg highlighted the challenge of remotely controlling activities.
Frequent disruptions via live stream meant the official time-keeper and back-room medical and technical students had to rely on relayed information via phone lines and skype-chats while the trainees underwater were getting delayed commands.
Italian astronaut Paolo Nespoli, who is at UniSA as part of the SHSSP, attended the first underwater training session and said, despite these difficulties, the simulation went well, challenging students to their full capabilities.
"It is important for everyone to understand the objective of the mission, the rules of engagement and the rules governing their responsibilities; who is in charge," said Nespoli.
"EVAs are challenging multi-disciplinary activities that force people to think. The skills they will develop from this experience are ones that extend beyond the theoretical.
Nespoli, who spent six months aboard the International Space Station between 2010 and 2011, added that space walks were far from being a "walk in the park".
"There are 150 ways you can be killed; it is an extremely dangerous activity as well as being a very complicated activity."
Dr Sarah Jane Pell, who designed the workshops and has logged 500+ hours working underwater in zero-visibility, as a commercial diver, highlighted the difficulties the students faced.
"The students discovered that the risks of underwater work and the workload should not be under-estimated," said Dr Pell.
"Students were surprised to learn that even the smallest task can take three times as long when you are neutrally buoyant wearing over-sized gloves, huge packs and have limited visibility".
The next SHSSP EVA workshop will take place at between 2.15 and 4pm at Adelaide Scuba, Glenelg on January 17.
A total of 38 students from 10 different countries are currently taking part in the five week long program, and 2013 marks the third year the program has taken place at UniSA.
Contact: Michael Davis office 0419 170 251 email mdavis@adelta.com.au
Media contact: Will Venn office 8302 0965 email Will.Venn@unisa.edu.au