Global computing project may avert oil and gas disasters
October 03 2014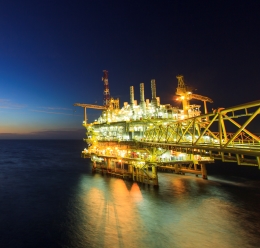 Researchers at UniSA's Advanced Computing Research Centre in the School of Information Technology and Mathematical Sciences are hoping to cut the risk of disaster in the oil and gas industry through the development of the first transform engine to support information interoperability between major industry information ecosystems.
Designed to ensure the data at the foundation of the structural and operational design of a facility can be understood across the operations and maintenance software, the initiative is being led by MIMOSA, an operations and maintenance information open alliance, as a pilot project specifically for the oil and gas industries.
Project leader, UniSA Professor Markus Stumptner says the vulnerabilities inherent in large scale oil and gas operations where design and operations data are usually developed in isolation from each other, can lead to major and catastrophic system failures.
"We know from an examination of some of the largest disasters such as the oil spill in the Gulf of Mexico, little system failures - an incorrect part provided, a switch that does not automatically engage because the batteries have expired – can mean the difference between a manageable industrial incident and a full scale disaster," Prof Stumptner says.
"The transform engine we have developed will enable large volumes of raw data in different formats and from different suppliers to be uploaded into the data management system and translated into a standardised format.
"Currently, when building or indeed modifying a gas or oil facility, data generated by the engineers and architects that defines the structure of the plant in one format has to be uploaded into the data management system manually and often remotely by teams of IT workers.
"The transform engine removes the risk of human error that is part and parcel of manual entry process."
The research team believes the innovation will have multiple benefits for the industry including a reduction in environmental and human safety risks, increases in profitability through optimised production and oil recovery systems and processes.
Prof Stumptner says the project has been advanced on a volunteer basis by researchers at UniSA. The team's interoperability research is supported by funding from the CRC for Integrated Engineering Asset Management (CIEAM CRC) and the new Data to Decision CRC (D2D CRC).
Collaborators on the project include MIMOSA, IBM, Assetricity, Worley Parsons, Rockwell Automation, Bentley, AVEVA, and Intergraph.
Media contact: Michèle Nardelli office: +61 8 8302 0966 mobile: 0418 823 673 email: Michele.nardelli@unisa.edu.au