Follow the leader: Bright and dark sides of ethical leadership
June 12 2015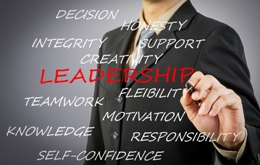 If your boss is open, transparent, keen both to listen to your ideas yet not take credit for the successful ones, then they are demonstrating an emerging style of leadership that is gaining momentum.
Describing what "ethical leadership" is and how its practice can benefit organisations and their employees will be the focus of a public lecture next week, hosted by UniSA's Centre for Human Resource Management, presented by organisational behaviour expert, Professor Deanne Den Hartog.
The event will examine the upside and downside of both ethical leadership and charismatic leadership and the evolution of these leadership styles within the workplace.
Being socially responsible, demonstrating moral values and having a sense of integrity are all part of the makeup of ethical leaders, Professor Den Hartog, of the Amsterdam Business School, believes.
"It's about what managers can do to help and recognise the value of their employees; it includes fair treatment, honest and open communication, transparency and not unduly manipulating situations or taking credit for other people's work," Prof Den Hartog says.
"Where there is greater ethical integrity, the positive effects on employees' attitudes and behaviours are such that they are more likely to report on any issues they may have or take the initiative if required."
Professor Den Hartog points to the Global Financial Crisis (GFC), which triggered a worldwide recession at the end of the last decade, as being a pivotal moment in encouraging a change to more responsible leadership practices.
"Ethical leadership can be seen as developing in response to recent scandals within the corporate and financial sector. Scandals such as ENRON and the GFC showed a lack of corporate social responsibility and the failings of practice governed by greed within parts of the banking sector.
"Today ethical leadership is so much more than just paying attention to a company's code of conduct. Its importance is recognised by many business schools now whose accreditation standards require that ethical and responsible behaviour is integral to teaching and research activities."
Professor Carol Kulik, CHRM Director, says Professor Den Hartog's research on leadership is especially important because so many organisations are undergoing dramatic changes and restructurings.
"When there is a great deal of change in their local environment, employees are more likely to look to the leader for guidance – an effective leader can 'make or break' an organisational change effort," Prof Kulik says.
"The Centre for Human Resource Management is committed to making research on people management available to managers, employees, and the general public. The Insights lecture provides an opportunity for anyone interested in work and organisations to learn about the latest research results."
The CHRM Insights Public Lecture will take place on June 17 at 6pm at the Bradley forum, UniSA City West campus. Registrations are essential and further information can be found here
Media contact: Will Venn office (08) 8302 0096 email will.venn@unisa.edu.au