Finding a way forward at the National Asylum Summit
June 25 2013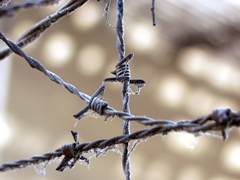 Despite comparatively small numbers of asylum seekers arriving irregularly in Australia, it's an issue that continues to be highly contentious, emotional and debatable in our country.
This week, the University of South Australia's Hawke Research Institute is hosting a National Asylum Summit to bring together key thinkers, public intellectuals, advocates and citizens to address the urgent need to find non-harmful strategies to resettle increasing numbers of stateless and displaced peoples.
"This is a unique event that brings together high profile Australian and international experts to have an honest conversation about asylum seekers and a practical way forward," says Director of the Hawke Research Institute, Professor Anthony Elliott.
"A key feature will be placing the issue of asylum in a global context. Asylum is not an issue that is unique to Australia – it is just one small piece in the global jigsaw of refugees, asylum seekers and the many millions of displaced peoples from war torn hot-spots worldwide.
"We want a sophisticated public debate, setting asylum into a global context and not reducing the debate to the narrow question of national border security."
The Summit will see collaboration between policy analysts, public intellectuals, academics, public servants, civil activists, and representatives of migrant and asylum communities who are seeking the most effective social, cultural and political responses to the asylum debate. It will include roundtable discussions that will be vital to developing recommendations for our National Asylum Summit Report which will be developed with the Academy of Social Sciences in Australia.
The Summit will be officially launched during a public lecture at 6pm on Wednesday June 26 which will feature Professor Ranjana Khanna who will explore asylum seeking being similar to insomnia - a space where there is no security, rest or chance for recuperation but rather constant agitation and inner turmoil.
The keynote address at the Summit will be delivered by international asylum expert, Dr Jeff Crisp who is Head of Policy Development and Evaluation Service at the Office of the United Nations High Commissioner for Refugees (UNHCR), in Geneva.
The Summit will be held on Thursday June 27 at the City West campus. It will be run in conjunction with the Academy of the Social Sciences in Australia, Bob Hawke Prime Ministerial Centre, and the UNESCO Chair in Transnational Diasporas and Reconciliation Studies.
For more information see http://www.unisa.edu.au/asylum
Media contact: Michèle Nardelli office 8302 0966 mobile 0418 823 673 email michele.nardelli@unisa.edu.au
Media contact: Associate Professor Jennifer Rutherford phone (08) 8302 1086 or 0435 255 739 email jennifer.rutherford@unisa.edu.au