Entrepreneurs set to start it up at UniSA
October 30 2013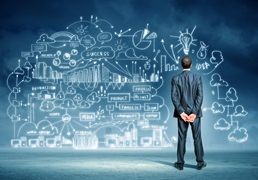 The University of South Australia will next month host Startup Weekend, an intense 54-hour business-building marathon involving almost 100 participants from around South Australia.
Supported by both UniSA and ITEK Ventures, Startup Weekend will see motivated entrepreneurs take up the challenge of building a web or mobile application which could form the basis of a credible business.
Startup Weekend convenor Chris Hooper says the event, being held at UniSA's City West campus from Friday November 29 to Sunday December 1, is a great way for budding entrepreneurs to launch their new businesses.
"Startup Weekend gives entrepreneurs the chance to work with other entrepreneurs to launch their business ideas," says Mr Hooper, who is also a tutor at UniSA and is currently undertaking his MBA.
"Participants will form teams around their business ideas on the Friday night and have until Sunday night to create a working startup.
"They will have 54 hours to build a working start up from scratch and present it to a panel of judges for their share in thousands of dollars' worth of prizes."
One of the judges for the event is UniSA's Dr Stephen Rodda, who is Director of UniSA's Research and Innovation Services and Chief Executive Officer of ITEK Ventures. In his own career, Dr Rodda has played an active role in the formation and financing of more than 10 companies and securing approximately $35 million in grants, investments and other funding.
Dr Rodda says UniSA and ITEK are proud to play an integral role in support of this great initiative on its fourth visit to Adelaide.
"Startup Weekend is an exciting and effective way for entrepreneurs to launch their new businesses," he says.
"The event will help foster the growth of entrepreneurship in Adelaide."
UniSA's Career Services is sponsoring 10 UniSA students to take part in the event.
Startup Weekend takes place around the world, with 1088 events having been held so far in 478 cities – from which 8190 startups have been created.
For more information go to: http://adelaide.startupweekend.org
Contact for interview: Startup Weekend convenor Chris Hooper phone (08) 7071 7232
or Startup Weekend judge, UniSA's Dr Stephen Rodda phone (08) 8302 3471
Media contact: Kelly Stone office 8302 0963 mobile 0417 861 832 email Kelly.stone@unisa.edu.au