Early childhood education goes regional
October 24 2013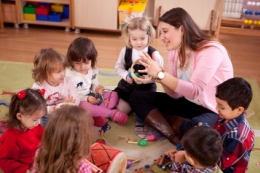 The University of South Australia will offer its Bachelor of Education with a specialisation in Early Childhood in Whyalla and Mt Gambier for the first time in 2014.
The four-year degree prepares graduates to take up professional careers as preschool and kindergarten teachers and junior primary school teachers.
University of South Australia Dean and Head of the School of Education Professor Geraldine Castleton says the degree will provide important opportunities for regional students to access an education that supports a rewarding career.
"The early years are well documented as some of the most important in children's lives and we know there is a growing need for professionals in the field particularly in rural and regional Australia," Prof Castleton says.
"We are delighted to be able to offer this new specialisation and build on the suite of education offerings for regional students in South Australia being delivered through our Whyalla and Mt Gambier campuses."
She says the Bachelor of Education provides an excellent opportunity for students who for a range of reasons could not attend a city campus to undertake study in this rewarding field.
UniSA has a strong commitment to providing equal access to education for all South Australians and the work to bring a sustainable program for teacher education into the regions has been achieved in strong collaboration with the communities of Mt Gambier and Whyalla.
Applications for the Bachelor of Education in Early Childhood are now open and can be made online via satac.edu.au/uniweb.
Regional students will still select the Magill Campus code for these programs.
Credit is available for those who apply having completed a Diploma of Children's Services through TAFESA.
For more information about the Bachelor of Education Degree Program being offered in Mount Gambier or Whyalla, please contact 1800 808 957.
Media contact: Michèle Nardelli office: 08 8302 0966 mobile: 0418 823 673 email: Michele.nardelli@unisa.edu.au