Defence industry high-flyer UniSA's new Chancellor
June 18 2015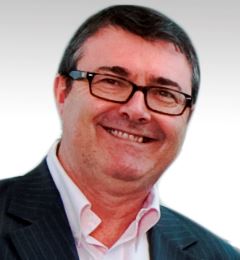 The Chancellor of the University of South Australia, Dr Ian Gould, has announced the University Council's decision to appoint Jim McDowell as his successor.
Dr Gould says Jim McDowell, currently Chairman of the Nuclear Science and Technology Organisation, will bring a wealth of relevant international industry experience to the role, at a time when UniSA is forging stronger national and international research partnerships in support of future industries.
"With more than 35 years' experience on the world stage in one of the most competitive industry sectors, aerospace and defence technologies, Jim will bring an important global view to the future planning and governance of the University," Dr Gould says.
Educated in Belfast, McDowell moved to England's University of Warwick to complete his degree in Law with Honours before joining British Aerospace, Singapore in 1996.
Working his way through the company, he became CEO of BAE Systems Australia in 2001 and later led its operations in Saudi Arabia as head of a workforce of more than 5000 and overseeing sales of more than $5 billion a year.
He is a non-executive director of both Codan Ltd and Austal Ltd and is Chairman of the Australian Nuclear Science and Technology Organisation. During this long career, McDowell has lived and worked in the UK, the USA, Korea, Singapore, Hong Kong and the Kingdom of Saudi Arabia.
"In addition to that global experience, Jim also brings a real passion for the transformational power of education in people's lives to the role of Chancellor," Dr Gould says.
"He is no stranger to UniSA having served on UniSA Council and the Advisory Board for our Business School.
"He has also encouraged lifelong learning through his roles as a member of the Defence Reserves Support Committee SA, a highly active member of the Northern Economic Leaders Champions Group and as Chairman of the Australian Apprenticeships for the 21st Century Panel, reporting to the Minister for Education in 2011.
"His diverse and top level experience of business, education and strategic governance will be an absolute asset to the University and I am delighted to be handing him the reins."
Jim McDowell says he is delighted and honoured with his appointment and to be handed the reins by someone as outstanding as Dr Ian Gould.
"I hope to bring together my experience of industry and government and my deep commitment to the value of education to support and enhance UniSA's development as Australia's university of enterprise," McDowell says.
Dr Gould has served as Chancellor in one of the University's most significant periods of growth and change. He will complete his term at UniSA in December after eight years of distinguished service including as Convenor of the Universities Chancellors' Council (UCC).
Media Contact: Michèle Nardelli office: +61 8 8302 0966 mobile: 0418 823 673 email: michele.nardelli@unisa.edu.au