New UniSA Vice Chancellor and President, Prof David Lloyd
January 21 2013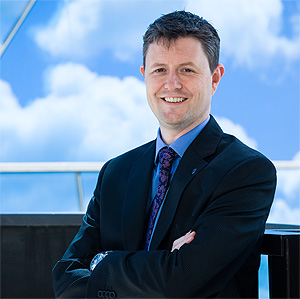 The University of South Australia welcomes Professor David Lloyd who takes up the position of Vice Chancellor and President from Monday, January 21.
Prior to his appointment, Professor Lloyd was Bursar and Director of Strategic Innovation at Trinity College Dublin, one of Europe's oldest and most prominent universities. He has also been Dean and Vice President of Research at Trinity and, as a biochemist specialising in computer-aided drug design, headed the Molecular Design Group at Trinity - Ireland's leading innovative drug discovery research centre.
Upon taking up his new role, Professor Lloyd said one of the key factors that drew him to the University of South Australia was the strong upward trajectory it continues to achieve in a number of key global rankings and assessment criteria.
"The University of South Australia has a strong ethos of producing business aware and work-ready graduates, an approach with which I strongly identify," he said.
"I also want us to be a partner of choice with industry, with strong partnerships in research, innovation and skills development."
Professor Lloyd indicated that among his first priorities will be to meet and talk to as many of the University's staff, students and partner organisations as possible.
"My first few months are going to be spent talking to people, listening to people and learning from people: sitting down and understanding how we got to where we are before we decide on what we're going to do next. I then hope to look at the institution from a fresh perspective," he said.
"I think I have benefitted from great legacy, a great inheritance, and I have a responsibility to make sure we don't lose sight of the things that make us excellent as we strive to get even better."