Inaugural lecture by head of the UN's Peaceful Uses of Outer Space Committee
July 05 2013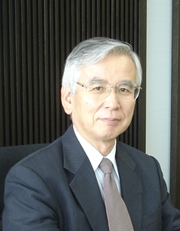 Keeping the peace in outer space and promoting international collaborations in space science, technology research and applications is all in a day's work for Dr Yasushi Horikawa.
As the Chair on the UN Committee on the Peaceful Uses of Outer Space (UNCOPUOS) Dr Horikawa says he is excited to become the Space Industry Association of Australia (SIAA)'s inaugural distinguished lecturer when he presents a speech in Adelaide on Thursday July 11.
The lecture, sponsored by the University of South Australia, will see the senior official of the Japan Space Exploration Agency (JAXA) talk on world trends in the industrialisation of space activities.
"International cooperation is essential for conducting the peaceful use of space.Since 1961 COPUOS has worked with member states, and passed treaties and resolutions creating a framework for the regulation of the peaceful use of space," said Dr Horikawa.
Highlighting the United Nations Outer Space Treaty of 1967, which ruled the use of outer space including the moon and other celestial bodies for peaceful purposes, Dr Horikawa says long-term sustainability of space activities is another of the key aims of COPUOS.
"There has been much collaboration between Japan and Australia over the past seven years, particularly related to remote sensing satellites and Australia's focus on researching trends in climate change is of benefit across the Asia Pacific region."
Michael Davis, Chair of the SIAA, said the support of UniSA was essential in creating an annual visiting lecture as part of SIAA's three year industry development program. "We are delighted that Dr Horikawa will be the inaugural speaker and we anticipate a strong attendance at the lecture which has been made possible through our partnership with UniSA.
"The event reinforces UniSA's real commitment to space science and technology. This is evident through the work of UniSA's Institute for Telecommunications Research which recently tracked a European Space Agency mission to the International Space Station.
"It is also evident through the success of and long term commitment to the annual Southern Hemisphere Summer Space Program, a partnership between UniSA and the International Space University of Strasbourg France."
The lecture will take place from 6 to 7 pm on Thursday 11 July at the Riverbank Room of the Adelaide Convention Centre.
Attendance is free but registrations must be made on online here
Contact Michael Davis (chair of SIAA) 0419 170251
Media Contact Will Venn office 8302 0965 email will.venn@unisa.edu.au