Capturing the attention of executives in today's media landscape
February 20 2015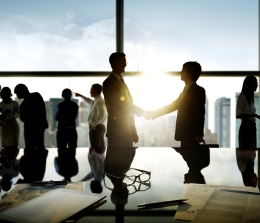 Being able to capture the attention of modern executives and communicate messages effectively, it is not only important to understand which media they turn to and when, but what is important at any given time, as business and finance news is about what is happening right now.
A new White Paper, 'Right Time, Right Media', by the Ehrenberg-Bass Institute at the University of South Australia Business School and leading global business and financial news network CNBC, offers media planners and advertisers a working landscape of the media habits of European business executives addressing when, where and why media choices are made.
The paper provides information that can help planners and advertisers tap more effectively into their market, enabling them to create and deliver smarter, effective content based on platform choice, timing and CEPs (Category Entry Points).
Research into the media habits of 750 European business executives indicates:
While mobile continues to grow in terms of penetration, the PC or laptop still dominates the workplace and home for all measured needs/situations followed by TV
Despite the amount of media and platform choices available, the majority of business executives still have a 'go to' medium, but this 'go to' medium varies across needs/situations so it is a constant battle for context relevance – both for media and content
Executives continue to turn to TV first for business and finance content
Executives access more media during weekday evenings and mornings, although 60% of all executives seek at least one of type business or finance news content during the weekend
Radio remains a popular choice in the morning while mobile scores highly at lunchtime when executives are more likely to be out and about. TV is dominant in the evening (achieving the highest reach: 69%).
Professor Jenni Romaniuk, International Director at the Ehrenberg-Bass Institute, says the White Paper would help media planners target the delivery of content in more effective ways to audiences at more responsive times.
"Globalization, the rise of digital and mobile technology and our 24/7 lifestyles mean today's executives have more sources of, and ways to access, information than ever before," says Prof Romaniuk.
Mike Jeanes, Research Director CNBC International says the White Paper is encouraging to marketers.
"'Right Time, Right Media' extends CNBC's research commissioned with the Ehrenberg-Bass Institute and the conclusions of the analyses encourage marketers to explore the mind set of business executives and align 'business and financial news needs' with the right content, timing and media mix," Jeanes says.
About CNBC
CNBC is the leading global broadcaster of live business and financial news and information, reporting directly from the major financial markets around the globe with three regional networks including CNBC in Asia, CNBC in EMEA and CNBC in the US. CNBC.com provides live streaming as well as an extensive video archive, database and analytical financial tools.
About the Ehrenberg-Bass Institute for Marketing Science
The Ehrenberg-Bass Institute for Marketing Science is a not-for-profit, research institute of the University of South Australia.
For a copy of the White Paper contact: Mike Jeanes email mike.jeanes@cnbc.com
Media contact: Lindsey Peshanoff office +61 8 8302 9131 email lindsey.peshanoff@marketingscience.info