Awards recognise film and talk as paths to understanding
December 09 2013
Annual Awards for Muslim and non-Muslim Understanding announced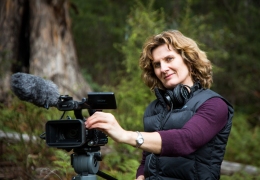 A film documenting the transition in one woman's life from prejudice and mistrust to understanding and friendship has earned its maker the individual category win in the 2013 Awards for Muslim and non-Muslim Understanding.
The film, Mary meets Mohammad, produced by Hobart film maker Heather Kirkpatrick, sensitively debunks myths and speculation about asylum seekers and Muslims which, fed by the politics of the day, have become entrenched in Australia.
Through the key protagonists, Mary, an older Christian Australian woman and Mohammad, a young Muslim asylum seeker in detention, we see an evolution of understanding built through conversation, kindness, patience and experience.
The film and accompanying study guide packaged for use in Australian schools, opens an opportunity to enrich students' understanding about the reasons why asylum seekers come to Australia and what it means to be Muslim.
Self-funded and made and distributed over two years, Kirkpatrick says the film was produced to tell an important story and to bring about awareness of cross cultural and religious issues.
Director of the International Centre for Muslim and non-Muslim Understanding and University of South Australia Pro Vice Chancellor for Education Arts and Social Sciences, Professor Pal Ahluwalia says the dedication and passion for understanding showcased in Kirkpatrick's work is remarkable.
"Heather had an idea, powered by a desire for people to grow in understanding and she has invested her energy, her considerable craft and own time and money to make it happen," Prof Ahluwalia says.
"The legacy of that investment is a special and poignant film that continues to move hearts, provoke discussion and shift prejudices – it is quite an achievement."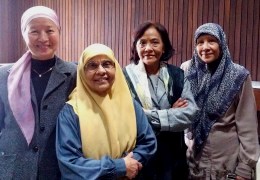 He says equally inspiring is the winner of the award in the Organisation category – the Muslim Women's Association of South Australia.
Established in 1993 the association has been working to improve understanding between Muslim and non-Muslim communities for 20 years.
Outstanding programs run by the Association include the You Will Achieve program, a special speaking circuit of Adelaide Schools. The program enlists young professional Muslims to speak to Muslim and non-Muslim students in a bid to build understanding and inspire achievement.
"Reaching out to 45 teachers and more than 360 students, a key focus of the visits has been to encourage school-aged students to look beyond different religious and cultural backgrounds and understand that working hard, acquiring skills and developing resilience and good character are keys to success," Prof Ahluwalia says.
In addition to working within the community to support families, the Association also runs conferences around key issues of misunderstanding including Sharia Law and programs exploring the history of Islam in Adelaide and debunking stereotypes about Muslim women.
"The Association is a vibrant active organisation with more than 300 members working on a day to day level to support families in the community and build bridges of understanding and collaboration between Muslim and non-Muslim people," Prof Ahluwalia says.
"The two winners selected this year in only the second year of the awards are shining examples of what it is to bring about social harmony, knowledge and understanding and we at UniSA in conjunction with the SA Office of the Australia Day Council, are delighted to acknowledge their efforts."
The Awards for Muslim and non-Muslim Understanding were established by UniSA's International Centre for Muslim and non-Muslim Understanding and the Australia Day Council to highlight the efforts of people around the nation who are contributing to social harmony and community cohesion.
The award ceremony will be held on Monday December 9 from 5.15 pm at the Bradley Forum, level 5, Hawke Building, City West campus.
Media contact: Michèle Nardelli office: 08 8302 0966 mobile: 0418 823 673 email: Michele.nardelli@unisa.edu.au