Australian public law and human rights expert named new Dean of Law at UniSA
March 24 2014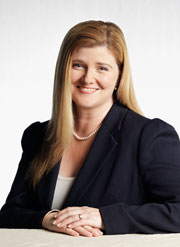 The University of South Australia has appointed internationally recognised expert in Australian public law and human rights, Professor Wendy Lacey, as its new Dean of Law.
Prof Lacey was appointed from an international field of academic candidates and will take up the position next month.
UniSA Vice Chancellor Professor David Lloyd says he is delighted with the appointment of someone who has proven herself internationally and locally.
"Wendy has been with UniSA's Law School since it was founded in 2007 and brings a real commitment to the University, but also a depth of experience, research and knowledge in her field." Prof Lloyd says.
"I am very pleased that after a worldwide search, we found the best candidate for the job here at UniSA.
"We look forward to her experienced leadership of the School and the extensive experience she will bring to the role as it continues to grow in what are exciting and dynamic times for UniSA."
Delighted with her appointment, Prof Lacey says she is looking forward to further building the reputation of the UniSA Law School in Australia and globally.
"It will be an exciting challenge to lead the School at this time of great opportunity and growth," Prof Lacey says.
"We have built a vibrant and connected Law School and I think our students benefit greatly from the notion that the best legal professionals learn about law within a broader social context."
Prof Lacey has published widely in the fields of Australian constitutional law, administrative law, judicial discretion and human rights.
She has honours degrees both in Arts and Law and in 2006 earned her PhD in Law from the University of Tasmania, where she has also lectured.
Since joining UniSA, Prof Lacey has taken on many leadership roles both in and outside the Law School, including playing an instrumental role in its establishment. She has worked as Associate Head of School since 2010.
Prof Lacey has headed up multidisciplinary research clusters designed to bring together different research expertise from across the University to work on policy frameworks and problem-solving in real world contexts.
Currently the co-convenor of the University's ageing research theme and a founding member of the Australian Research Network on Law and Ageing, Prof Lacey's ongoing research focus is on the rights of older persons.
She is a member of the Minister for Health's Steering Committee which has been tasked to review South Australia's strategy on the prevention of elder abuse.
The UniSA Law School was established in 2007 with a vision of producing outstanding, profession-ready graduates.
By adopting a flexible trimester model, relatively small class sizes, and an embedded skills program, UniSA Law has established itself as an innovative Law School offering an outstanding student learning experience and graduate outcomes.
Media contact: Michèle Nardelli office: 08 8302 0966 mobile: 0418 823 673 email: Michele.nardelli@unisa.edu.au