Adelaide research opens doors to potential new cancer hope
March 13 2015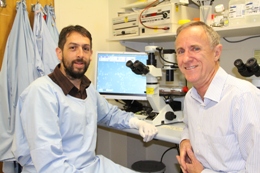 Ground breaking cell biology research out of Adelaide's Centre for Cancer Biology could open the door to new ways to stop the spread of cancer.
The CCB's Gene Regulation Laboratory has discovered how circular RNAs (ribonucleic acids) are made and how their production is controlled.
Laboratory head Professor Greg Goodall says the discovery could lead to new avenues for blocking cancer metastasis, the name given to the spread of cancer through formation of secondary tumours.
The research has been published today in Cell, the world's highest ranked journal in biological and medical sciences.
Prof Goodall says in recent years biologists have been aware that genes can produce various different types of RNA molecules that help to control the activities of genes and the orderly functioning of cells.
"Very recently they discovered that yet another, unusual type of RNA molecule – circular RNA – is made in all tissues in the body, but they had little idea of what the function of these circular RNA molecules might be. It was even possible they were by-products of cellular processes with no real function," he says.
Dr Simon Conn and colleagues in the CCB's Gene Regulation Laboratory – aided by the powerful technology of next generation DNA sequencing and high power bioinformatics provided by the CCB's Australian Cancer Research Foundation (ACRF) Cancer Genomics Facility – have now discovered that these circular RNA molecules are produced in a highly controlled way.
"However, we found that their numbers increase dramatically when cells undergo a process – called Epithial-to-Mesenchymal Transition, or EMT – that is strongly linked to cancer metastasis," Prof Goodall says.
"We also discovered that a protein, called Quaking, controls the circularisation process. Because metastasis is what makes cancers lethal, there is great hope that our discovery of how circular RNAs are made and how their production is controlled will lead to new avenues for blocking the growth and spread of cancers."
The research, titled: 'The RNA binding protein Quaking regulates formation of circRNAs', can be downloaded from Cell.
The Centre for Cancer Biology is an alliance between SA Pathology and the University of South Australia.
Contact for interview: Greg Goodall office (08) 8222 3430 email greg.goodall@health.sa.gov.au
Media contact: Kelly Stone office (08) 8302 0963 mobile 0417 861 832 email Kelly.stone@unisa.edu.au