$40m federal government backing for SA Pathology's Centre for Cancer Biology and UniSA
June 15 2013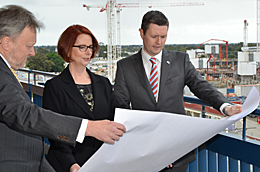 The Federal Government, through a $40m investment, has backed the formation of a powerful new partnership between the University of South Australia and SA Pathology to accommodate and support the growth of the Centre for Cancer Biology (CCB).
The Centre has a specific focus on fundamental research that is relevant to many types of cancer, as well as the research of blood-related cancers, such as leukaemia and lymphoma, which account for nearly 20 per cent of cancer mortalities in Australia and more than one third of cancers in children.
The Centre for Cancer Biology will form part of the University's significant health and biomedical footprint in the North Terrace hospital precinct and will be housed in a new facility currently being planned.
The Centre provides world class cancer research that moves from fundamental discoveries in the laboratory straight into treatments, drug development and improved and sustainable practices to manage and diagnose cancer.
UniSA Vice Chancellor Professor David Lloyd says the move will help to sustain and grow expertise in cancer research in South Australia.
"We're very pleased that the Federal Government has seen the merits of this project and provided funding to support new facilities and also that the State Government, via SA Health, has collaborated with us to support this initiative with the CCB," Prof Lloyd says.
"The Centre for Cancer Biology will continue to forge extensive and close relationships with industry so that we can find treatment solutions for cancer patients, develop more reliable and effective medications and move from discovery to application with speed.
"Our goal is to develop the Centre as one of the very best in the world for cancer research."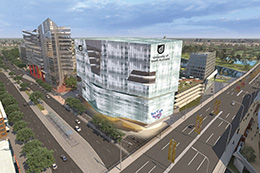 The Centre will be located near the SA Health and Medical Research Institute (SAHMRI) and the new Royal Adelaide Hospital and will complement expertise within SAHMRI and the wider bioscience health precinct being developed around it.
It will also complement UniSA's acknowledged expertise in the quality use of medicines, pharmaceutical science and pharmacokinetics research and build upon its recent investment in attracting international research leaders in cancer medicinal therapy and innovative drug formulation.
There are also clear research links with the University's advanced manufacturing capabilities in nanotechnology and coatings and with its technological leadership in the new CRC for Cell Therapy Manufacture.
Co-directors at the CCB, which is one of Australia's top three cancer research centres, Professors Angel Lopez and Sharad Kumar believe the partnership will support the development of a cancer research community of enormous depth and capacity in South Australia.
"Already the CCB is an exciting place for fundamental research in the causes of cancer and for cancer treatment but this partnership will allow us to grow that expertise and develop a larger team," Prof Lopez says.
"New relationships and facilities will mean we can attract the right people to join the Centre – the best and brightest - and as a Centre, contribute significant research to the fight against cancer."
"CCB already hosts a number of key research groups studying biology, causes, differential diagnosis and treatment of cancer and with the new partnership, we hope to expand our expertise and scope of research even further," Prof Kumar says.
Prof Lloyd says consolidating advanced cancer research in this new relationship has key benefits for the State including:
strengthening of the capacity to translate cancer research into improved practice and applications such as early diagnosis; prevention; and improved sustainability and reduced cost in the health system;
boosting Australia's reputation for excellence in cancer and cell biology research through the attraction of additional world-class researchers to South Australia;
enhancing the clinical/research nexus that helps the quality of patient care and the development of new treatments;
attracting talented international students in healthcare and bioscience disciplines;
completing a unified world-class health and medical precinct in the north-west end of the Adelaide CBD that will provide synergies between UniSA research and teaching (and that of the other SA Universities), SAHMRI, CSIRO and the new Royal Adelaide Hospital;
creating increased opportunities for the commercialisation of research into the global pharmaceutical and other healthcare industries and boosting local job creation;
and, attracting investment to Australia from other parts of the world in these industries.
Media contact: Michèle Nardelli office: 08 8302 0966 mobile: 0418 823 673 email michele.nardelli@unisa.edu.au
&nbsp