Adelaide's own salt of the earth
May 24 2012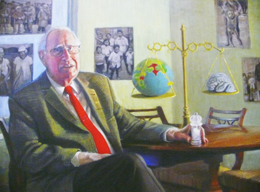 Celebrating living history and a significant local hero are two aspects of a key exhibition now open at the University of South Australia's library this month to coincide with history month, honouring UniSA's former Chancellor Dr Basil Hetzel and his incredible contribution to world health
Salt of the Earth: preventing iodine deficiency disorders will be open to the public at UniSA's City East library from May through to August 12 documenting both the story of a medical discovery that showed iodine deficiency during pregnancy could lead to debilitating brain disorders and the modern day campaign that is working worldwide to prevent the condition.
At the heart of the exhibition is the work of Adelaide's own Dr Basil Hetzel, named one of Australia's national living treasures and a man who has dedicated most of his life to service both on a local and international stage.
The exhibition was launched to celebrate Dr Hetzel's 90th birthday at City East on Thursday May 24.
The exhibition takes us through Dr Hetzel's pioneering work on the effects of iodine deficiency when he and a team of researchers working in the Papua New Guinea highlands from 1964 -1972 established that fetal brain damage and specifically conditions such as congenital hypothyroidism could be eliminated by the simple ingestion of iodised salts before pregnancy.
The discovery, able to so significantly change the lives and well-being of millions worldwide, led Dr Hetzel to found an international campaign to make iodized salts a part of the diets of more than two billion vulnerable people in more than 130 countries where iodine is lacking.
In 1986 Dr Hetzel initiated the International Council for Control of Iodine Deficiency Disorders (ICCIDD), which has bridged the gap between research and its application in developing countries where more than two billion are at risk of impaired brain function.
Perhaps one of the greatest illustrations of the impact of Dr Hetzel's work is the results from China.
Fifteen years ago China had the world's largest population and also the world's most severe IDD challenge.
Since then Dr Hetzel's contribution to the China IDD Elimination Program has made it a best practice example of what can be achieved in overcoming IDD through a massive program of salt iodization.
This fascinating exhibition is a must see for anyone looking to understand more about this important medical breakthrough and the impact of Dr Hetzel's work.
Head of UniSA's Library, Helen Livingston says it is wonderful to present such an exciting exhibition about amazing research and commitment that emanates from South Australia.
"Too often our media is dominated by hero stories from other places and other countries and it can be easy to think big things don't happen in South Australia," she said.
"But Dr Hetzel's personal story, his brilliant research and then his drive to share the breakthrough and make a difference to the lives of millions of people is inspiring.
"This is how people change the world and this is an example of one man's desire to do just that."
More information about the exhibition is available online.
Media contact: Michèle Nardelli office (08) 8302 0966 mobile 0418 823 673 email michele.nardelli@unisa.edu.au