When audio is hot; radio skills are in demand
February 11 2019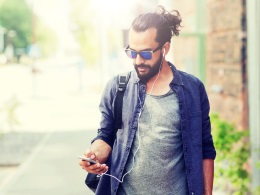 Just 15 years ago it was not uncommon to hear that radio was dead, an old medium destined for a sad demise, but like so many other traditional forms of media, radio has undergone its own transmogrification.
With the fracturing of old media models and new technologies having a deep impact on how we "do" media as consumers, radio has had a rebirth in the podcast…and online, mobile audio is pretty hot right now.
According to UniSA lecturer and researcher in radio, Dr Heather Anderson, podcasting has brought incredible energy and reach to radio and is transforming linear broadcasting into creative, community- driven audio productions, taking the world by storm.
In 2018 there were an estimated 630,000 podcasts featuring 18.5 million episodes, produced in more than 100 languages.
"Audiences for podcasts are growing exponentially, so skills in radio production are actually invaluable for anyone pursuing a communications career," Dr Anderson says.
"What is amazing about the podcast revolution, is that it can provide international reach for journalists and communicators, in ways that would not have been open to them in the past.
"Podcasting draws on all the skills they learn as journalists but also relies heavily on an understanding of the elements of radio that draw in an audience – that intimate and focussed connection that audio delivers."
It will come as no surprise then, to see the School of Creative Industries introduce podcasting to its suite of skills taught as part of the Bachelor of Journalism and Professional Writing.
"The core elements of radio journalism are still fundamental for any journalism graduate wanting to pursue a career in the industry," Dr Anderson says.
"Introducing podcasting to this skillset expands the capacity to tell stories, reach audiences and experiment with sound and I'm looking forward to hearing what this year's students create."
February 13 is UNESCO World Radio Day and this year the day recognises the power of radio to promote dialogue, tolerance and peace.
UniSA media contact:
Michèle Nardelli mobile +61 418 823 673 or +61 882960854 email michele.nardelli@unisa.edu.au