UniSA honours Australia's War Memorial Chief
April 23 2019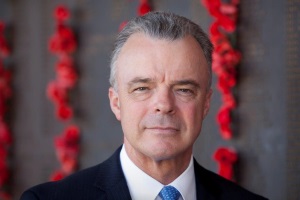 Australia's Director of the Australian War Memorial and former federal Leader of the Opposition, The Hon Dr Brendan Nelson AO, will today be awarded an honorary doctorate from the University of South Australia for his exceptional contribution to public service, international relations and the education of the nation.
A member of the House of Representatives for more than 13 years, Dr Nelson was appointed Minister for Education, Science and Training in 2001 and Minister for Defence in 2006.
In 2004 as Minister for Education, he provided strong funding support for the foundation of a Chair in Child Protection at UniSA, leading to the foundation of the Australian Centre for Child Protection.
He was elected leader of the Liberal Party of Australia from 2007 to 2008.
Retiring from politics in 2009 Dr Nelson assumed the role of Australian Ambassador to Belgium, Luxembourg, the European Union and NATO overseeing a major transformation of Australia's relationships with the European Union and NATO, and forging deep links with the communities of Flanders where almost 14,000 Australians lost their lives during the First World War.
In 2012, he was appointed to his current role of Director of the Australian War Memorial, where he is revitalising the Australian War Memorial activities. He oversaw the commemoration of the Gallipoli centenary in 2015, and the centennial commemorations for battles on the Western front in Europe.
A medical doctor by profession, Dr Nelson was the youngest elected President of the Australian Medical Association (AMA), where he advocated for many social policy issues, including Aboriginal health and immunisation, and a ban on tobacco advertising and sponsorship at sports events. His commitment to public health saw him awarded the AMA's highest honour, the Gold Medal for 'Distinguished Service to Medicine and Humanity'.
Dr Nelson was appointed an Officer of the Order of Australia (AO) in January 2016 for his services to the community, the parliament of Australia, diplomacy and cultural leadership.
UniSA Vice Chancellor Professor David Lloyd says Dr Nelson's significant contribution to public service over more than two decades is exceptional.
"From his early work in in medical profession, across his political and ambassadorial careers, and most recently his important and influential work with the Australian War Memorial, Dr Nelson has strived for excellence," Prof Lloyd says.
"Dr Nelson's passion, determination and unbridled commitment to improving the lives of everyday Australians on all levels is simply outstanding, and I'm delighted to welcome him to the University of South Australia community."
He will be awarded an honorary doctorate in Pridham Hall today at the 3 pm graduation ceremony.
Media contact: Annabel Mansfield: office +61 8 8302 0351mobile: +61417 717 504
email: Annabel.Mansfield@unisa.edu.au