UniSA honours a champion of children's health Professor Fiona Stanley, AC
April 17 2019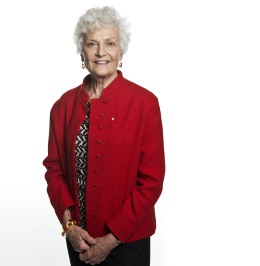 She is one of the nation's strongest advocates for a more holistic approach to children's health, she's Australia's UNICEF Ambassador for Early Childhood Development, in 2004 she was named as one of our national Living Treasures – and today Professor Fiona Stanley AC will be awarded an Honorary Doctor of the University of South Australia.
Doctor, epidemiologist and researcher, Prof Stanley has dedicated her life to building healthier children and communities locally and globally particularly in the causes and prevention of birth defects and major neurological disorders like cerebral palsy, maternal and child health in Aboriginal and non-Aboriginal populations and developmental origins of health and disease.
Vice Chancellor Professor David Lloyd says Prof Stanley is one one of Australia's most inspiring health researchers and advocates.
"You can't meet Fiona without seeing her passion for making a difference," Prof Lloyd says.
"She brings together great intellect with great heart and it is a formidable combination - a spirit that has made a powerful difference to the health of children globally.
"We are pleased and proud to welcome her to the UniSA community."
Prof Stanley was the Founding Director of the Telethon Kids Institute (formerly known as the Telethon Institute for Child Health Research) from 1990 until 2011, which focuses its research on child and adolescent health and development including Aboriginal health, cancer, diabetes, cystic fibrosis, autism, mental health and wellbeing and infectious diseases.
Her analysis of population data from the WA Maternal and Child Health Research Database, which she helped to establish, confirmed the link between deficiencies in folic acid during pregnancy and the incidence of spina bifida and reduced the incidence of the condition around the world.
A passionate advocate in Australia for the advancement of Aboriginal health, in 2008 Prof Stanley delivered the Annual Hawke Lecture at UniSA – The Greatest Injustice - why we failed to improve the health of Aboriginal Children – to a prolonged, standing ovation.
Today, as Patron of the Telethon Kids Institute, she continues to advocate for the Institute, research and families.
Prof Stanley will receive her Honorary Doctorate from theUniversity of South Australia the 10.30 am ceremony at Pridham Hall, City West campus.
University of South Australia academic leaders Professor Robert Vink AM, formerly Pro Vice Chancellor for the Division of Health Sciences and Professor Jason White, formerly head of the School of Pharmacy and Medical Sciences will both be awarded the title of Emeritus Professor at today's ceremonies.
News editors please note: About 3500 students will graduate from the University of South Australia in April in ceremonies from April 16 to 26. The University will award seven honorary doctorates, name two University Fellows and award three Emeritus Professorships.
Media contact: Michèle Nardelli mobile 0418 823 673 email michele.nardelli@unisa.edu.au