Fellow for UniSA's governance guru, Terry Evans
April 23 2019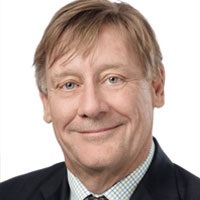 Former University of South Australia Pro Chancellor Terry Evans will today be recognised as a University Fellow for his outstanding contribution to the growth and development of the University of South Australia.
A member of UniSA's council for more than 12 years, Evans was Chair of the Student Appeals Committee, and a member of the Audit and Risk Management Committee, Governance and Legislation Committee, and the Senior Remuneration Committee.
Acute corporate acumen and governance capabilities have seen Evans appointed company director of several government and not-for-profit boards, and from 2010 to 2017, he served as Pro Chancellor of the University of South Australia.
A highly experienced lawyer, Evans was appointed Chief Commercial Counsel for the South Australian Government where he acted on the privatisation of the State's electricity, ports, TAB and other smaller businesses and on the outsourcing of water and bus services. He later became the Deputy Chief Executive and then Chief Executive of the Attorney-General's Department.
UniSA Vice Chancellor Professor David Lloyd says Evans' leadership and governance expertise have been invaluable for UniSA's growth and development.
"We've been very fortunate to have Terry as part of our governance team for so many years. His stewardship, expertise and knowledge have been invaluable and I'm very pleased to acknowledge his outstanding contributions to the University today." Prof Lloyd says.
Terry Evans will be conferred the title of University Fellow on Tuesday 23 April 2019 at 10:30am.
The same ceremony will see Professor Tony Winefield will be conferred the title of Emeritus Professor for his distinguished academic service to the University of South Australia.
About 3500 students will graduate from the University of South Australia in April in ceremonies from April 16 to 26.
Media contact : Annabel Mansfield: office +61 8 8302 0351 mobile: +61 417 717 504
email: Annabel.Mansfield@unisa.edu.au