UniSA's Pridham Hall opens its heart and its doors to graduates
April 09 2018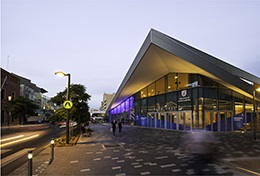 Built to be the heart of UniSA's City West campus, the new Pridham Hall on Hindley Street will have its debut today when the first of 4000 graduates cross the stage as part of the University's April graduations.
Ceremonies will be held over a 10-day block from this afternoon (April 9) through to April 18.
Official construction of the $50 million Pridham Hall, designed as a student-focused sports and functions venue, began in October 2015 with the turning of the first sod.
Generous donations from more than 500 alumni and friends of the University have contributed to the project, including a remarkable $5 million benefaction from the family of alumnus, investment banker and Chairman of the Sydney Swans, Andrew Pridham.
Award-winning South Australian firm JPE Design Studio, renowned Norwegian architecture firm, Snøhetta, and South Australia's own JamFactory are behind the design of the building, which features an array of sporting facilities from basketball courts and a rock climbing wall, to an underground swimming pool, exercise and dance studio, a gymnasium, and flexible seminar and function rooms.
UniSA Vice Chancellor Professor David Lloyd says it is fantastic to see an ambition realised.
"The idea for Pridham Hall first surfaced from unijam 2013, a unique consultation undertaken with all of our staff, students and wider circle of institutional partners and friends," Prof Lloyd says.
"Our students really wanted sporting facilities on campus, but they also wanted to have a significant venue where they could graduate and create enduring memories of their time at UniSA.
"Pridham Hall delivers both and we are really excited today to open the doors and start that memory- making for our students.
"We are extremely grateful for all the support we have had on this project, from the architects, designers, builders and project managers and from all of the people who have generously supported its construction."
Pridham Hall has a graduations seating capacity of just over 1800 people.
During construction from October 2015 until January this year the project generated employment for 30,669 people including 47 trade packages.
The new underground heated pool is 25m long with five-lanes and has been designed to provide wheelchair access.
The 1589.2m2 hall features two basketball courts and a rock climbing wall.
A campaign giving donors the opportunity to inscribe three inspirational words in the architecture of the building continues today.
These words are visible on the foyer's interior walls, inscribed in the pool and on the leaves of a central foyer chandelier.
Graduations calendar
Monday April 9th
3pm Schools of Commerce and Law
Honorary Doctor awarded to Deborah Cheetham AO
Wednesday April 11th
10.30am School of Natural and Built Environments
Honorary Doctor awarded to Professor Monica Oliphant AO
3 pm Schools of Information Technology and Mathematical Sciences, Engineering and UniSA College
Thursday April 12th
10.30am School of Art, Architecture and Design
University Fellow awarded to Guy Maron
3pm School of Psychology, Social Work and Social Policy
Emeritus Professor awarded to Prof Rhonda Sharp AM
Friday April 13th
10.30am School of Education
3pm Schools of Creative Industries and Education
Monday April 16
10.30am School of Nursing and Midwifery
3pm School of Nursing and Midwifery
Tuesday April 17
10.30am School of Pharmacy and Medical Sciences and Health Sciences
3pm School of Health Sciences
Wednesday April 18
10.30am Schools of Management and Marketing
Honorary Doctor awarded to Bill (William) Muirhead AM
Graduations will beheld in Whyalla on May 4 and Mt Gambier on May 11.
Hindley Street will be closed between from Liverpool and Register Streets
April 9, 1200-1700; April 11, 0900-1730; April 12, 0900-1730; April 13, 0900-1730
April 16, 0900-1730; April 17, 0900-1730; April 18, 0900-1400
Media contact: Candy Gibson office +61 8 8302 0961 email candy.gibson@unisa.edu.au