UniSA women blitz Winnovation Awards, taking 6 out of 10 categories
October 19 2018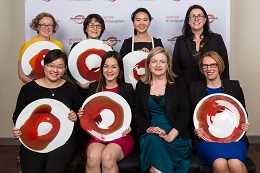 University of South Australia researchers dominated last night's Women in Innovation Awards at the National Wine Centre, taking out six of the 10 categories in an outstanding result for the University.
In a night described as "extraordinary" by UniSA's Deputy Vice-Chancellor: Research and Innovation, Professor Tanya Monro, the quality of research and innovation among UniSA's female academics was rewarded with the following results:
ARTS

: Anika Johnstone for MOD.IFY, the University's new museum driven by a desire to engage a younger audience in science, technology; engineering and maths;
ENGINEERING

: Professor Yan Zhuge (School of Natural and Built Environments) for her work recycling tyres into high value building materials for structural engineering applications;
MATHS and DATA

: Dr Tina Du (Information Technology and Mathematical Sciences) for her work using data-driven approaches to develop innovative guidelines for international tourism;
SCIENCE:

Dr Chia-Chi Chien (Future Industries Institute) for her innovative, microfluidic 3D tumour-on-a-chip research;
SOCIAL IMPACT:

Professors Fiona Arney and Leah Bromfield (Australian Centre for Child Protection) for their work aimed and preventing and responding to child abuse and neglect;
OPEN:

Dr Renly Lim (School of Pharmacy and Medical Sciences) for her unique science-art program, Village Drama Against Malaria, to fight the world's deadliest mosquito in Cambodia.
Two other UniSA researchers – Dr Marnie Winter and Associate Professor Nikki Stanford from the Future Industries Institute – were also finalists on the night.
"This is an outstanding result and underlines UniSA's reputation for enterprising, innovative and industry-engaged research and the quality of our female researchers and teachers," Prof Monro says.
"At UniSA we are committed to the SAGE (Science in Australia Gender Equity) Athena SWAN Charter to promote gender equity and diversity in STEM, supporting the aspirations of our talented women, so we individually and collectively thrive."
Women in Innovation SA president Nicole Swaine said the judges were "amazed and inspired" by the entries received, demonstrating the great work in STEM, business, government and the arts in South Australia.
This is the fifth year the awards have been held, recognising the state's leading female innovators.
Caption: Prof Tanya Monro pictured with UniSA Winnovation Award winners. Photo courtesy of Heidi Wolff.
Media contact: Candy Gibson mobile 0434 605 142 email mailto:candy.gibson@unisa.edu.au