UniSA wins prestigious European Union grants
July 24 2018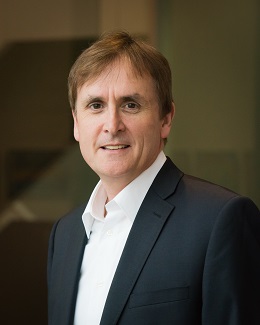 The University of South Australia will play a central role in deepening ties between Australia and the EU after winning two of the most prestigious grants awarded by the European Commission.
UniSA's Hawke EU Centre has been awarded more than $600,000 to establish a Jean Monnet Centre of Excellence and a Jean Monnet Network, aimed at strengthening Australia-EU relations through research, teaching and diplomatic activities.
Professor Anthony Elliott, UniSA's Dean of External Engagement and internationally-acclaimed sociologist, will be Executive Director of the new Centre, which will be launched in September 2018.
Prof Elliott, a Fellow of the Academy of the Social Sciences in Australia, will also lead the new Jean Monnet Network, bringing together a consortium of 12 researchers from universities in Australia, Germany, Denmark, Estonia, New Zealand and Japan to examine the impact of driverless vehicles on society.
The Hawke EU Jean Monnet Centre of Excellence will focus on three main themes:
Industry 4.0, reflecting the era of cyber-physical systems powered by artificial intelligence, the Internet of Things (IoT), autonomous machines and big data;
Creative Industries, including the design of business models and skills for digital markets;
Migration, Mobility and Culture to track the global and regional migration of people and the transformation of cultural identities.
"Through this award of a Jean Monnet Centre of Excellence, this is an enormously important opportunity to develop and deepen EU-Australia relations on the most critical global transformation of our times," Prof Elliott says.
"One of the characteristics of the 21st century is the digital revolution – from AI to advanced robotics to Industry 4.0. UniSA will play a central role in generating and promoting synergies in European studies to better understand these global technological changes."
The Jean Monnet Network will undertake research on the development and impact of driverless vehicles in Europe and Australia, identifying issues for governments and local authorities and making policy recommendations.
"The opportunities for closer ties between the EU and Australia on Industry 4.0, connected mobilities and smart cities has expanded, given the backdrop of recent European Commission developments in intelligent transport," Prof Elliott says.
"We hope that through the Jean Monnet Network we will promote a better understanding of these issues and encourage discussions among policy makers, key stakeholders and the public," he says.
UniSA Deputy Vice Chancellor, Nigel Relph, says the grants are "a real coup for UniSA and for Professor Elliott".
"It is testament to the outstanding track record of UniSA's Hawke EU Centre under his leadership over the past four years, the hard work of many colleagues that has gone into developing the University's deep European collaborations, and our expertise in topics related to the future of industry, especially Industry 4.0".
Media contact: Professor Anthony Elliott mobile 0434 187617; email Anthony.Elliott@unisa.edu.au Candy Gibson mobile 0434 605 142 email mailto:candy.gibson@unisa.edu.au
Notes to Editors
The Jean Monnet Network is titled "Cooperative, Connected Automated Mobility: EU and Australasian Innovations" and will run from September 2018 until August 2021.
Jean Monnet was a French political economist and diplomat considered one of the founding fathers of the European Union.