UniSA wins funding for research into cancer, ageing, alcohol abuse and 3D bioprinting for medical use
August 13 2018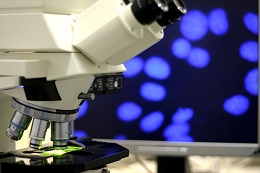 The University of South Australia has been awarded more than $2.6 million in the latest round of Federal Government funding to further research into Australia's most critical health issues.
Almost half of UniSA's funding announced today from the National Health and Medical Research Council (NHMRC) has been awarded to find potential treatments for cancer, specifically brain tumours, acute myeloid leukaemia, bone marrow and head and neck cancers.
More novel research will be funded to develop an innovative 3D bioprinting platform to reconstruct the earlobe – a difficult organ to regenerate using traditional methods.
Other projects to benefit from the NHMRC funding will focus on preventing medicine-related side effects in older people; programs to address Australia's high alcohol consumption by targeting parents; and strategies to balance daily activities for the best mental and physical health.
UniSA researchers awarded funding include:
Professor Stuart Pitson: a $649,175 Senior Research Fellowship to understand how defects in a type of 'fat' molecule known as sphingolipids contributes to cancer and other diseases, and how this can be prevented to treat brain tumours, acute myeloid leukaemia and multiple myeloma;
Professor Benjamin Thierry: a $609,542 Development Grant using magnetic tracers to develop a superior staging technology for head and neck cancers based on magnetic tracers.
Four-year Early Career Fellowships have also been awarded to:
Dr Liping Wang: $417,192 to fabricate tissues and organs for ear reconstruction using 3D bioprinting;
Dr Renly Lim: $327,192 to develop and evaluate a novel, pharmacist-led service to prevent medication-related side effects in older people;
Jacqueline Bowden: $327,192 to help halt Australia's high rate of alcohol consumption by targeting parents, discouraging them from supplying their teenage children with alcohol;
Dr Dorothea Dumuid: $327,192 to identify the healthiest daily activity patterns for adults and children.
Full details of the successful projects can be found at: https://beta.nhmrc.gov.au/funding/data-research/outcomes-funding-rounds
Media contact: Candy Gibson mobile 0434 605 142 email mailto:candy.gibson@unisa.edu.au