UniSA research supports low cost, low emissions innovation in refrigeration technology
April 17 2018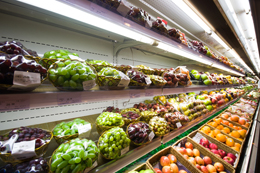 The University of South Australia has helped to develop a revolutionary new refrigerated cooling system for the hospitality industry that will drastically cut costs and CO2 emissions.
Working in collaboration with Glaciem Cooling Technologies, the world-first cooling system installed at The Bend Motorsport Park in Tailem Bend will be officially handed over to the Peregrine Corporation today.
One of the UniSA researchers involved in the project, Professor Frank Bruno from the Future Industries Institute, says the partnership between UniSA and Glaciem was key to making the new cooling system possible.
"This first commercial system is a result of close collaboration between UniSA and Glaciem," Prof Bruno says.
"The system uses technology developed at UniSA over the past 10 years, and our capability in refrigeration, air conditioning and solar, to deliver the world's most efficient air-cooled CO2 refrigeration system for hot climates."
The system integrates two key Glaciem technologies; DPCO2 Carbon Dioxide Only Refrigeration, the world's most efficient air-cooled CO2 system in hot climates, and ThermCOLD Thermal Storage, a 'thermal battery' that provides end users with highly efficient energy storage.
ThermCOLD uses phase-change materials (PCMs) developed by UniSA researchers – research which won the Australian Museum 2015 ANSTO prize for Innovative Use of Technology.
The powerful combination allows end users to run refrigeration to charge ThermCOLD while energy is cheaper and then use this stored 'cold' during periods of elevated prices.
PCMs fill the gap of solar and wind electricity as their generation-hours and electricity-use-hours often don't align. They store the excess electricity generated by solar or wind in the form of thermal energy.
The cheaper, energy-saving integrated cooling system provides a safe, sustainable answer to refrigeration says Prof Bruno.
"Given that the currently used global warming refrigerants are being phased-out worldwide, this system which uses CO2 as the refrigerant provides a cost effective and environmentally-friendly solution for the refrigeration industry," he says.
UniSA Deputy Vice Chancellor: Research and Innovation, Professor Tanya Monro, says she is impressed with the innovation the collaboration has delivered.
"These kinds of partnerships targeted at finding important solutions for real problems are part of what makes UniSA Australia's University of Enterprise.
"We want to deliver research that makes an impact, that meets industry at the coalface and helps them to deliver great outcomes for the environment, for society and for business.
"ThermCOLD is a great example of how we are continuing to make a difference through our research and our ability to work in partnership with industry."
The integrated cooling system handover at The Bend will also mark International Refrigeration Day, and the anniversary of the birthday of the pioneer of mechanical refrigeration, James Harrison.
Media contact: Jacinta Mazzarolo | Office: (08) 8302 0578 | Email: jacinta.mazzarolo@unisa.edu.au
Visit the UniSA Media Centre - Follow us on @UniSAnewsroom