UniSA joins with Dassault Systèmes to give students a 3DEXPERIENCE in engineering education
May 18 2018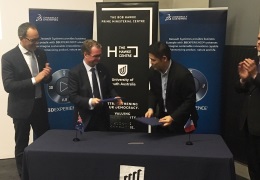 The University of South Australia is joining forces with Dassault Systèmes to give students a leading edge in 3D engineering design and simulation, with the signing of a strategic partnership and a deal to deliver specialist software to support education for the defence, satellite systems and other industries.
The Strategic Agreement underpins a range of initiatives including student access to Dassault Systèmes' 3DEXPERIENCE Platform and plans to develop a 3DEXPERIENCE Innovation and Collaboration Centre that will support the University's industry partners to work with the latest technology and be a base for further collaboration between UniSA and Dassault Systèmes.
UniSA Vice Chancellor Professor David Lloyd says the Strategic Agreement gives UniSA students a huge advantage as they enter the workforce.
"Part of our wider education strategy at UniSA is to place the best end-user tools in the hands of our students so that they are work- ready when they graduate," he says.
From 2019 the University will have developed specialist curricula to integrate the 3DEXPERIENCE platform in Bachelor's and Master's degree programs.
"This partnership is important for our students because it gives them an opportunity to become proficient in one of the key engineering technology and design software systems used widely in the defence industry and across the engineering profession," Prof Lloyd says.
"They will have both the knowledge and the practical experience to take on the many vital roles that will support the burgeoning naval defence sector as the Federal Government delivers on its $89 billion Future Frigates and Future Submarines plans.
"The agreement will also establish opportunities for research, internships and training activities with industry and, while they are still at university, it will give students experience of real project work using Dassault Systèmes' 3DEXPERIENCE platform.
"We're very excited to be working with Dassault Systèmes. It is a company renowned globally for its commitment to education through a global network of 40,000 education partners and one that is respected for its innovative engineering design technology."
Dassault Systèmes' Managing Director for Asia Pacific South, Masaki Sox Konno says he is delighted to be forming a partnership with UniSA, Australia's University of Enterprise.
"It is vital that today's universities enhance the skills development of their students to ensure they are job-ready in the digital age and that they stay abreast of the evolution of digital technology in a systematic model," Masaki Sox Konno says.
"We are excited to be working with UniSA to nurture students' digitalisation skills through the 3DEXPERIENCE platform, skills not only essential for Australia's future shipbuilding industry, but across a diverse spectrum of industries such as mining, retail, urban planning and construction which increasingly require new "digitally enabled" talent for their business transformation. We wish UNISA and this strategic partnership great success and look forward to seeing a whole new generation of talent emerging from this program."
Media contacts:
UniSA - Michèle Nardelli mobile 0418 823 673 email michele.nardelli@unisa.edu.au
McCo Group - Leigh McClusky mobile 0411 711 780 email leigh@mccogroup.com.au
Dassault Systèmes – Magdalene Tan mobile +65 9487 1206 email magdalene.tan@3ds.com