UniSA helps to hone next gen Mt Gambier athletes
July 13 2018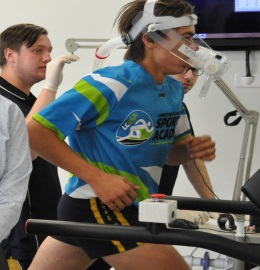 The Limestone Coast Regional Sporting Academy (LCRSA) has just secured three years of funding to support a joint program with the University of South Australia that will nurture the talents of emerging elite athletes in the Mount Gambier and Limestone Coast region.
A community with vibrant football and netball competitions, the Alex Roberts 100-mile cycling classic, the Mt Gambier Gift athletics carnival and a wide range of other team and individual sports – Mt Gambier has bred some truly exciting sporting heroes – the likes of Gavin Wanganeen (AFL), Josip Skoko (Socceroos) and TJ Green (women's Rugby All-Stars).
The new funding will support testing in UniSA's High Performance Sport Centre in Adelaide and education programs around key factors that contribute to elite performance to be delivered to students in Mt Gambier.
UniSA High Performance Sport Centre Coordinator, Michael Hartland, says the athletic initiative for aspiring country athletes developed by UniSA and the Limestone Regional Sports Academy continues UniSA's long-term commitment to regional engagement and equity.
"We want to support the development of sporting talent across all of the state, not simply in the capital and this partnership with support from the State Government will do just that.
"The first group of young athletes will attend the high-performance center in Adelaide this week and the educational component of the program will be delivered at our Mount Gambier campus,' Hartland says.
"Through the partnership, athletes from the region will have access to truly state-of-the-art facilities, the same facilities that have been used by leading AFL, basketball and soccer clubs to help to research improved performance."
The University and LCRSA established their partnership in 2017 and the new funding package will help to grow its work at the Academy and support new talent in the region.
There are currently 12 athletes attending the sessions in Adelaide through scholarships awarded by the Office for Recreation, Sport and Racing and the Limestone Coast Local Government Association.
The goals of the Academy are to identify regional sporting talent, educate and develop youth in the region, provide pathways to State and national representation, develop the skills of regional coaches and develop community leadership qualities in the athlete group.
Media contact: Michèle Nardelli mobile 0418 823 673 email michele.nardelli@unisa.edu.au