UniSA appoints new Student and Academic Services Director
September 18 2018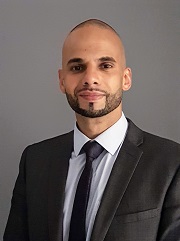 The University of South Australia will welcome a new Director of Student and Academic Services later this year with the appointment of experienced British higher educational professional, Richard Irons. Irons, currently Academic Registrar at the University of Derby, will take up his UniSA post in November.
He has more than 10 years' experience in the student services sector, initially at Nottingham Trent University and for the past three years at the University of Derby, located in the heart of England.
Welcoming the appointment, UniSA Vice Chancellor Professor David Lloyd says Irons' career achievements have already been impressive.
"Richard led the Student Services unit at the University of Derby for two years before a rapid promotion to Academic Registrar in 2017, where he was instrumental in driving new structures and processes," Prof Lloyd says.
"The University of Derby has recently been named one of the most improved universities in the UK, jumping 25 places to rank in the top 30 in The Guardian University Guide 2019. Like UniSA, it is committed to relevant, industry-linked research, and career-connected teaching and learning.
"We are delighted to have Richard on board."
At UniSA, Irons will be responsible for coordinating the University's student administration services – from enrolment to graduation – and maintaining student records, providing campus-wide services to students, as well as managing the University's academic policies.
"UniSA's student-focused culture, its ambitious approach and forward-thinking strategy are very impressive, and I am delighted to be joining the University at such an exciting time," Irons says.
"In a higher education landscape which is increasingly competitive and constantly changing, the importance of the student experience has never been greater.
"As the incoming Director of Student and Academic Services (SAS) I am looking forward to working with colleagues and teams both within SAS and the wider University, and my family is relishing the opportunity to embark on a new life in South Australia and make Adelaide our home."
Media contact: Candy Gibson mobile 0434 605 142 email mailto:candy.gibson@unisa.edu.au