UniSA Professor Shudong Wang honoured at NHMRC awards
June 29 2018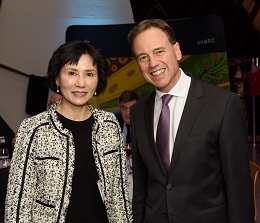 World renowned cancer researcher, UniSA Professor Shudong Wang, was honoured at the National Health and Medical Research Council's (NHMRC) annual Research Excellence Awards in Canberra on 27 June, winning the Top Development Grant for 2017.
Professor Wang, who leads the team at UniSA's Centre for Drug Discovery and Development, was awarded the prize to develop a new and effective enzyme-targeted drug for cancer patients.
Her team demonstrated the drug's effectiveness against acute myeloid leukemia and cancers of breast and ovaries, and she is looking to secure investment to accelerate its development and make it available for cancer sufferers.
"It is estimated that more than 134,000 new cases of cancer were diagnosed in Australia last year – an average of 367 people each day," Professor Wang says. "This novel drug we are developing offers new hope for many Australians living with this insidious disease."
"The population is ageing, Australians are living longer and the incidence and burden of cancer is rapidly increasing. Research focusing on new and more effective therapies is critical," she says.
Professor Wang's team collaborates with researchers globally, funding organisations, donors and pharmaceutical companies in a common goal to find a cure for cancer.
The cancer researcher was one of 20 of Australia's leading health and medical researchers honoured at this week's NHMRC awards, from an initial field of 5400 applications.
Professor Wang joined the University of South Australia in 2012 from the University of Nottingham, UK, where she was Reader in Medicinal Chemistry. Prior to that she spent seven years in a British Biotech company as Head of Chemistry and Drug Discovery after completing her PhD in Chemistry in 1998.
To help Professor Wang's research and help fight cancer, please go to www.unisa.edu.au/jointhefight
Caption: Professor Shudong Wang pictured with Federal Health Minister Greg Hunt at the NHMRC Research Excellence Awards on 27 June.

Media contact: Candy Gibson mobile 0434 605 142 email mailto:candy.gibson@unisa.edu.au