Uncle Lewis O'Brien recognised as a leading light in education
October 05 2018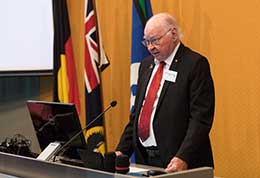 One of Adelaide's most loved and respected Aboriginal Elders, researchers and educators, Uncle Lewis Yerloburka O'Brien, AO, has been recognised by the Australian Council for Educational Leaders for his enormous contribution to researching, maintaining and sharing Aboriginal knowledge.
Announced at the 2018 ACEL National conference, Uncle Lewis is the recipient of the ACEL Leadership Award.
Born at Point Pearce Mission, Uncle Lewis is a Kaurna man whose family originally lived in the northern-most reaches of Kaurna country, near the Clare District.
With knowledge passed down from his Elders and relatives, he has developed a brilliant capacity to bring together Aboriginal ways of knowing with western philosophy and share culture with all those he encounters.
He began working in schools in the late 1970s teaching children traditional Aboriginal knowledges and values, and since, over more than 30 years, has been a mentor for hundreds of Aboriginal children families and inmates.
His research and scholarly work including a commitment to keeping alive the Kaurna language and culture has been substantial.
He has been a driving force in re-inscribing a Kaurna presence into the Adelaide topographical and cultural landscape and bringing to light Aboriginal knowledge and protocols.
UniSA Pro Vice Chancellor: Aboriginal Leadership and Strategy, Professor Irene Watson says Uncle Lewis has been tireless in his efforts to restore, maintain and evolve cultural knowledge.
"Since the 1960s, Uncle Lewis has been a tireless and proud contributor through committees and consultancy, to heritage, arts, sports, reconciliation and of course education, from pre-school to tertiary," Prof Watson says.
"At UniSA he was a key consultant on integrating Indigenous knowledge into science and engineering programs, which was an Australian first. And he has been engaged with all three SA universities in promoting Aboriginal language and culture.
"This acknowledgement from ACEL is richly deserved."
Uncle Lewis was made a Fellow of the University of South Australia in 2004.
ACEL is a not-for-profit organisation that actively supports the development of educational leadership capabilities across Australia, through conferences and workshops, leadership programs, in-house publications, online resources and bookshop.
Media contact: Michèle Nardelli mobile 0418 823 673 email michele.nardelli@unisa.edu.au