MOD. inspires new UniSA student podcast
May 24 2018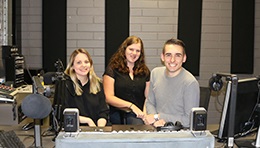 It was only in 2004 that a Guardian journalist suggested the word podcasting to describe a phenomenon that has since swept the world.
Globally today, there are more than one billion people subscribed to podcasts - regular audio recordings that focus on everything from crime and mystery, current affairs and parenting, to leading a happier life – providing subscribers with intimate access to the information they want to hear, in the way they want to hear it.
At UniSA, journalism students are not only learning about the impact and potential of podcasting – they have developed a special series of episodes – MOD.cast - to coincide with the launch of UniSA's new futuristic museum of discovery.
Chloe Byrne, Brad Irvine-Thomas and Morgan Burley worked together to develop a series of podcasts that explore some of the concepts and ideas that are a feature of the first MOD. exhibition – MOD.IFY – which opened to the public on May 11.
"It has been an interesting challenge because we couldn't see the exhibition before we produced the program, we could only imagine it and draw on what some of the exhibitors were saying about their work," Byrne says.
"We had to do a fair bit of research around some themes that we knew MOD.IFY would explore – what it is to be human, how augmented reality and robotics will impact our lives and how it challenges what we know of ourselves as thinking beings – these are pretty deep issues.
"The challenge for us was to explore those ideas and develop something that was both entertaining for the young people MOD. wants to entice through the door, and at the same time really uncovered the research behind the ideas."
Byrne is completing the third year of the Bachelor of Journalism and Professional Writing at UniSA and while she hopes to pursue print journalism when she graduates, says she has really enjoyed the creative challenge of working on the podcasts.
For double degree student studying Law and Journalism, Brad Irvine-Thomas, the chance to be involved with MOD. has been a great opportunity.
"Career-wise I still don't know if I will pursue law or journalism, but this project was really intriguing because it made me question some of the things I had accepted my whole life," Irvine-Thomas says.
"If that is any indication of the impact that MOD. exhibitions will make in Adelaide, then I think this space is going to be fantastic for stimulating young people to think outside the box."
Course colleague, Morgan Burley, says producing the programs has really piqued her interest in all that goes on behind the scenes to make a podcast, the research, the effects, tracking down the right quotes from the right people and sourcing relevant audio material.
"I have really enjoyed the radio component of the degree, so working on this podcast series was pretty attractive and it really has been enjoyable.
"The ideas MOD. will explore are significant for all of us to consider and sometimes they're a bit uncomfortable, so I am really looking forward to seeing all the hard work of the innovators involved with MOD. curated together at the exhibition."
Course coordinator, Dr Heather Anderson says the chance to give students a real creative production opportunity with a real brief is a fantastic learning experience.
"The MOD.cast team have thrived under the pressures of both a tight deadline and a high profile client and applied many of the skills they've developed over the past two and half years to produce a series that I, as their teacher, am very proud of," Dr Anderson says.
The short podcast series MOD.cast – four episodes will be live at https://mod.org.au/mod-cast from today.
Located within UniSA's new Cancer Research Institute on North Terrace, MOD. is now open. MOD.IFY exhibition times are Tues-Thurs 12-6pm, Fri 12-8pm and Sat-Sun 10-4pm.
Media contact: Michèle Nardelli mobile 0418 823 673 email michele.nardelli@unisa.edu.au