First Maple Leaf school teaching in English and Mandarin to open at UniSA's Mawson Lakes campus in 2019
March 28 2018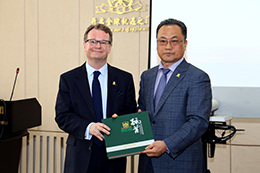 The University of South Australia and Chinese company Maple Leaf Education Asia Pacific Limited (Maple Leaf) signed an agreement today that will see an English-Mandarin bilingual school open at Mawson Lakes campus in 2019.
Former Westminster College Principal Steve Bousfield will be principal at the new school.
The Founder, Chairman and Chief Executive Officer of Maple Leaf, Dr Sherman Jen says he is delighted to be working with UniSA to bring a complete bilingual education environment to students in South Australia.
"We are looking forward to opening the first Maple Leaf high school in Australia at the University of South Australia," Dr Jen says.
"UniSA offers not only and excellent location for the school at Mawson Lakes but also an association with one of the worlds top 50 universities under 50 years old.
"We admire the UniSA's high educational standards, its international outlook and enterprising spirit."
UniSA Deputy Vice Chancellor: External Relations and Strategic Projects, Nigel Relph says he is delighted to be hosting the Maple Leaf high school at UniSA.
"Maple Leaf has a fantastic reputation for excellence and this new bilingual school will ensure more students have an opportunity to truly immerse themselves in the language and culture of another country," Relph says.
"It will also provide an extraordinary opportunity for students of Education at UniSA to have first-hand experience of a bilingual school in action, to analyse the Maple Leaf curriculum and understand more about the benefits of bilingual education.
"We anticipate Maple Leaf's network of 80 schools will provide broad opportunities for classroom observation, research, practicum experience, and in future international work opportunities for our Bachelor of Education graduates.
"We also look forward to the increased profile that Maple Leaf can provide for UniSA in China, raising awareness of our enterprising young university in the world's largest country for international students."
Maple Leaf schools in China will graduate more than 2,500 students in June 2018 and an increasing number of those students go on to choose Australian universities for their higher education.
The Maple Leaf School at the University of South Australia (MLS-UniSA), will be the first high school in Adelaide established by a Chinese education group. The School will offer a bilingual English-Mandarin curriculum for senior high school students in grades 10-12 and is expected to open in February 2019 with about 60 to 75 students.
China Maple Leaf Educational Systems Limited opened its first school in 1995 and has grown to become the largest operator of international schools in China, with over 32,000 students enrolled in 20 cities in China.
Maple Leaf Educational Systems and all its high schools are also accredited by AdvancEd, the largest school accreditation agency in the United States of America and in the world.
Media contact: Michèle Nardelli, UniSA Associate Director: News and Communication, tel +61 418 823 673
email Michele.Nardelli@unisa.edu.au
Visit the UniSA Media Centre - Follow us on @UniSAnewsroom