Are you ready to face a major fire this summer?
October 29 2018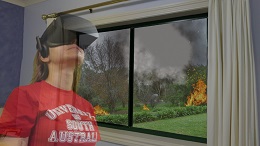 With summer and the threat of bushfires looming, South Australians living in high-risk areas have one major advantage in preparing their bushfire survival plans this year, thanks to a joint project between UniSA and the SA Country Fire Service (CFS).
Residents in Tea Tree Gully, Belair, Mylor, Hahndorf and Gawler will get the chance in November to experience a computer-generated major bushfire through a virtual reality headset, replicating real-life conditions minus the heat.
Developed by UniSA PhD student Safa Molan and her supervisor Associate Professor Delene Weber in conjunction with CFS officials, the headset gives people a searing experience of a major bushfire in the Adelaide Hills without any danger.
Officials hope the virtual reality scenario – an Australian first – will remind residents of the need to prepare bushfire survival plans ahead of a potentially lethal summer.
Adelaide Hills residents will have a chance to try out the technology at a series of different locations in November, organised by the CFS and UniSA.
"The virtual reality scenario replicates typical conditions experienced in a major fire, including strong, changeable winds fanning the flames," says Assoc Prof Weber, an environmental scientist in UniSA's School of Natural and Built Environments.
"It puts users under pressure to decide whether to leave their homes early or stay and defend – in essence, what a bushfire survival plan is designed to do.
"The scenario is realistic but safe and underlines the importance of being prepared in the event of a major fire. Too often people think they will 'leave early' but then delay their departure, making evacuation more dangerous, or not feasible.
"One person in the Sampson Flat fire explained they were waiting for the sound of the freight train (the noise a major fire makes when it is approaching), which is way too late to leave."
And while some people did stay and defend their properties during the 2015 fires, they told UniSA researchers that although they were physically prepared, the emotional experience of the fire was devastating.
"We often fail to recognise that the impacts of an experience with fire extend well beyond the incident itself," Assoc Prof Weber says. "This virtual reality scenario allows people to experience what the consequences may be like if they do stay and defend. For some people this might encourage them to rethink their plans."
Virtual reality headsets are now being used by several emergency service groups to train their own staff, but involving the public is an Australian first.
The scenario builds on research conducted as part of a joint UniSA and University of Adelaide Australian Research Council Grant.
Researchers found people's knowledge of fire as a natural part of the Australian ecosystem was relatively high, as was their acceptance of prescribed burns. However, it was clear that many people hadn't got around to making a bushfire survival plan, or they "had it in their head".
The 15-minute virtual reality scenario shows people the types of decisions that need to be made as a fire approaches and ultimately, hopefully encourages people to sit down and make a bushfire survival plan.
Assoc Prof Weber urges residents to visit the CFS website (www.cfs.com.au) for a step-by-step guide to help them prepare a bushfire survival plan.
UniSA researchers and the CFS will use the feedback from the virtual reality scenario to better understand how different people react in a fire situation.
"We can then tailor the information that is most relevant to them. In the future we hope to develop different scenarios, including one for children, and one for people holidaying in fire-prone areas," says Safa Molan, the PhD researcher.
CFS Bushfire Safety Project Manager Peta Donohue said her organisation was "delighted to be working with UniSA" on the virtual reality project.
"We are looking forward to seeing the results to find out if VR can provide genuine changes in behaviour. We learned from community research and experiences at Sampson Flat that some people were physically prepared for the fire, but not emotionally. We need to find ways for people to practice their bushfire survival plans without putting them at risk," she said.
For more details about the CFS events offering a virtual reality experience, including the dates they are held in November in each location, please go to: http://projectlive.org.au/facing-fire.html
Caption: Safa Molan demonstrating the virtual reality headset.
Media contact: Assoc Prof Delene Weber mobile 0417 809 372 email delene.weber@unisa.edu.au
UniSA Press Officer Candy Gibson mobile 0434 605 142 email mailto:candy.gibson@unisa.edu.au
CFS Media and Communications Officer Brett Williamson phone +61 8 8115 3531 email brett.williamson@sa.gov.au