UniSA's $247m Cancer Research Institute opens - an epicentre for cancer and aligned research
May 10 2018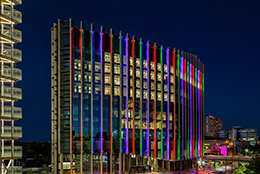 The $247 million, 14-storey UniSA Cancer Research Institute will open its doors today adding research, development and teaching capacity to South Australia in its war against cancer and a range of other diseases.
It will accommodate the largest cohort of cancer researchers ever assembled in South Australia.
The elegant new building, designed by architects Swanbury Penglase and BVN Donovan Hill, is home to UniSA's research-rich School of Pharmacy and Medical Sciences, the globally recognised Centre for Cancer Biology (an alliance between UniSA and SA Health), UniSA's technology-based business incubation hub (in collaboration with DXC and the State Government), the Innovation and Collaboration Centre, and a new and unique future-focussed public museum, MOD.
UniSA Vice Chancellor Professor David Lloyd says the building is a vital addition to the west end's health and biomedical precinct, helping to boost the links between research, teaching, industry and practice.
"There is now a SA precinct dedicated to excellence in health research and practice and the building underlines UniSA's leading role in the quest to beat cancer and a range of other diseases," Prof Lloyd says.
"This gateway facility in a research and education-rich environment is now a core element of UniSA's central campus at City West, strengthening our position as Australia's University of Enterprise and one of the world's highest ranked young universities.
"We are extremely proud of the building and the research teams who work here and dedicate their lives to finding solutions for some of the world's most devastating health problems."
Professor Lloyd says he is also grateful for support and vision shown by both state and federal governments to partner with UniSA in delivering the game-changing facility.
"When you give our best minds the best facilities, you can expect they will deliver the best research outcomes," he says.
The new building will be home a range of research concentrations including personalised medicine through the exploration of genomic sequencing, drug therapeutics, vaccine development, the early origins of diseases, nanomedicine and biopharmaceutical engineering, cell-biology and disease research, chemotherapy and bone growth and repair, cancer biomarkers, new drug discovery and development for cancer therapy, immunotherapy, gene regulation, and triggers for tumour development.
The building has the same space capacity as Magill campus and almost 45,000 tonnes concrete were used in its construction.
It is the tallest structure in South Australia with a structural timber façade of Australian hardwood.
The first two floors of the building are dedicated free public gallery spaces. Home to UniSA's futuristic museum of discovery, MOD., will feature two unique and challenging exhibitions a year, focussed on the intersection between science, creativity, art and innovation.
UniSA's new Cancer Research Institute will be officially opened at 10 am on May 10 with a plaque unveiling by the Premier of South Australia Steven Marshall.
More building fast facts
The building is equipped with rainwater capture for irrigation reducing stormwater run off by 25 per cent.
90 per cent or more of construction waste was diverted from landfill.
About 44,600 tonnes of concrete were used in its construction – including 62 precast columns only 36 of which are loadbearing.
It has 500 km of data cable and 7000 network points.
The roof supports a solar thermal array which during peak performance, contributes 50 per cent of the hot water energy demand for the building at full occupation (750 people).
The new building has been generously granted a Kaurna language name Purruna Wardli, meaning, Healthy Place.
Media contact: Michèle Nardelli mobile 0418 823 673 email michele.nardelli@unisa.edu.au