Water research is pure gold for South Australia
October 12 2017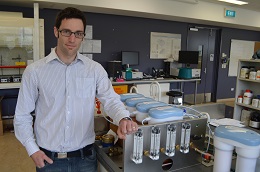 Australia's most precious resource will be the focus of a new $945,000 collaborative research project between the University of South Australia and the State's leading water filtration company, Puratap.
UniSA researcher Dr Martin Sweetman has been awarded a three-year Science and Industry Endowment Fund STEM+ Business Fellowship to work with the South Australian owned business to develop the most advanced water filtration materials on the market.
Dr Sweetman, from UniSA's School of Pharmacy and Medical Sciences, will focus on new techniques to remove specific contaminants from the nation's water supply, caused by industrial and agricultural practices and synthetic chemicals.
"This project will focus on improving Puratap's current filtration materials, where we will be able to incorporate advanced filtration technologies that have been developed in the lab," Dr Sweetman says.
The fellowship will deepen the existing collaboration between UniSA and Puratap, supported by previous Federal Government grants, looking at the quality of Australia's drinking water dispensed through carbon water filters.
Dr Sweetman's fellowship will continue a recent UniSA research breakthrough which found a faster way to identify the quality of filtered drinking water. That research, undertaken in partnership with Puratap, also confirmed that water filters should be replaced every year to ensure high quality drinking water.
"Two significant impurities in supplied water include dissolved organic matter and disinfection by-products – the latter being linked to adverse health effects, including cancer," Dr Sweetman says.
"Our current research has found a correlation between the amount of dissolved organic matter present in water and the level of trihalomethanes – by-products formed when chlorine is used to disinfect water,"
Academic project leader, Dr Sally Plush, who is part of the collaborative research team, describes Dr Sweetman's fellowship as "an excellent achievement".
"We now have the capacity to build a highly productive and longstanding research partnership between UniSA and Puratap," Dr Plush says.
The Science and Industry Endowment Fund (SIEF) provides financial support to facilitate collaborations between academic researchers and businesses, to support the growth of Australian industries.
Media contact: Candy Gibson mobile 0434 605 142 email candy.gibson@unisa.edu.au